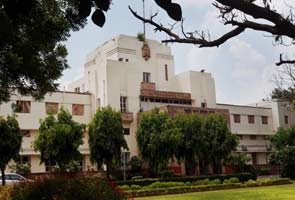 Chandigarh:
Granting relief to the Meharwal Khewaji Trust, a court in Chandigarh stayed an earlier order declaring the late Maharaja of Faridkot's will for property worth Rs 20,000 crore as fake, till September 27.
Staying the earlier order, Additional District and Sessions Judge R K Yadav yesterday allowed the trust to withdraw Rs 50 lakh from its account to meet day to day expenses, for paying the salary of employees and doctors of a hospital run by the trust.
The counsel for the trust pleaded that the hospital has over 250 employees and doctors. Besides, it has other expenses to meet, to which the court directed the trustees to submit details of expenditure incurred, by the next date of hearing.
Counsels for both, the trust as well as Amrit Kaur, the late Maharaja's eldest daughter, had agreed to the suggestion put forth by the court to hear the case continuously from September 27.
Declaring the will, which gave control of the Maharaja's properties worth Rs 20,000 crore which include Faridkot Palace, Qila Mubarak, Faridkot House at Copernicus Marg in New Delhi, Faridkot House at Mashobra near Shimla in Himachal Pradesh, 18 vintage cars and jewellery, to the trust as fake, the CJM had ordered that the Maharaja's daughters, Amrit Kaur and Deepinder Kaur, were the rightful heirs.
The trust on August 19 had challenged the lower court's order of July 25. It contended that the will was not fake and Amrit Kaur was disinherited by the late Maharaja in both his wills of 1952 and 1982.
Amrit Kaur had challenged the will in 1992.
In his will, the Maharaja excluded his mother and wife and appointed all his employees as trustees.
The salary of chairperson Deepinder Kaur and vice-chairperson Maheepinder Kaur was kept at Rs 1,200 and Rs 1,000 respectively.
The former Faridkot ruler's third daughter Maheepinder Kaur died in 2000 in Shimla. While Amrit Kaur lives in Chandigarh and Deepinder is in Kolkata, the late Maharaja's only son Tikka H M Singh died in 1981.