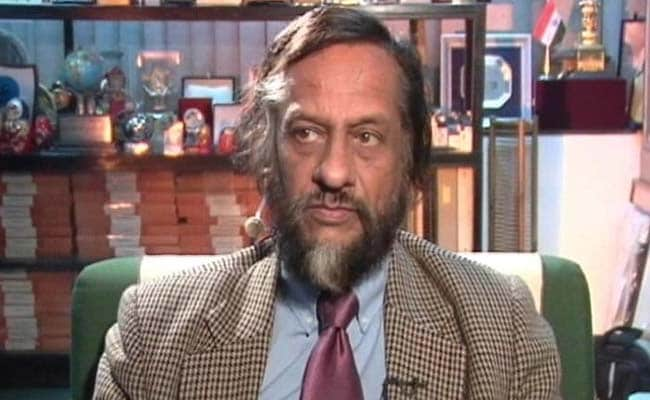 New Delhi:
A Delhi court today allowed TERI Director General RK Pachauri, who is facing sexual harassment allegations by a former woman colleague, to travel to the United Kingdom and Finland to attend official events.
Metropolitan Magistrate Vandana Jain allowed Mr Pachauri's plea seeking permission to go to Finland to visit a university from February 2 to 4 and London from February 5 to 7 to make a presentation at an event.
The court granted permission to Mr Pachauri while accepting his submission that he had cooperated in the probe and made himself available for investigation when required by police.
"From the previous record, contentions of the applicant (Pachauri) are found to be true. It is nowhere mentioned in the report of the Investigating Officer that applicant has ever refused to join probe or has violated any bail condition.
"Application is hereby allowed subject to giving an intimation in respect of his return back to India on scheduled date to concerned court as well as to the police within two days," the link magistrate said.
The court, while disposing of his plea, also directed Mr Pachauri to inform it in advance with respect to any change in the schedule or the itinerary.
Seeking permission to travel abroad, Mr Pachauri, through his counsel Ashish Dixit, submitted that he has been invited by University of Eastern Finland on February 3-4 to enhance its cooperation with TERI and to make a presentation at an event in London on February 5.
The police opposed the plea saying an application for cancellation of anticipatory bail to Mr Pachauri was pending before the Delhi High Court which will be heard on February 11 and therefore he should not be allowed to travel abroad.
To this, Mr Pachauri's counsel said his client will be back to India on February 7 and will be available for the scheduled hearing in the high court.
This is the eighth time Mr Pachauri has been allowed to travel abroad by the court, including permission granted earlier this month for his visits to the USA and Guyana.
During the pendency of the trial, he has travelled to various countries to attend global meets and conferences on environmental issues, including USA, China, Japan, Kazakhstan, Bolivia, Kuwait, Somalia, France and Saudi Arabia.
On February 13 last year, an FIR was registered against Mr Pachauri on charges of sexual harassment under IPC sections 354, 354(a), 354(d) (molestation) and 506 (criminal intimidation).