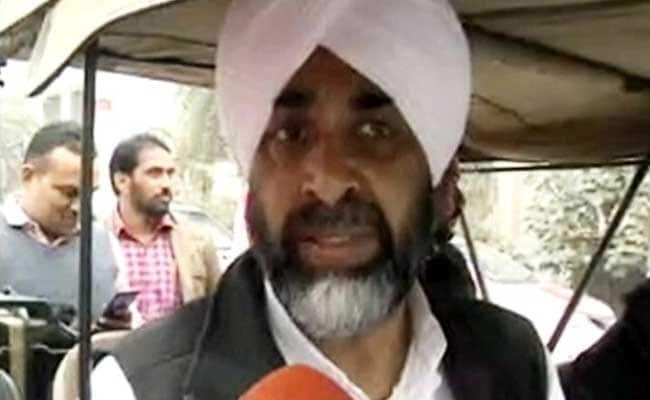 Chandigarh:
Punjab Finance Minister Manpreet Singh Badal on Thursday asserted that except a meagre sum of Rs 71 crore, the BJP-led government has not given the state a single penny to fight COVID-19 pandemic.
Mr Badal made the assertion, seeking to debunk sought Union Minister Harsimrat Kaur Badal's claims of funds given by the centre to Punjab.
Mr Badal, an estranged cousin of Shiromani Akali Dal Chief Sukhbir Singh Badal, asked Harsimrat Kaur not to "play petty politics" over the COVID-19 crisis and dared her to get Punjab's GST arrears worth Rs 4,400 crore released from the centre.
Mr Badal attacked Ms Kaur after she earlier claimed that the government of India had given funds and foodgrain to the Punjab government to combat COVID-19, and asked Chief Minister Amarinder Singh why no relief was being given to the needy people.
"A sum of Rs 71 crore has been given to Punjab under the National Health Mission to fight coronavirus. It comes even less than Rs three crore per district. Besides that, we have not got a single penny from the government of India in the fight against COVID-19," Mr Badal said in a video message posted on his Facebook.
"If they are trying to show doing favour with a sum of Rs 71 crore, it is petty politics and narrow mindset," said Mr Badal, targeting the Union minister.
He said a sum of Rs 832 crore given by the centre, as had been claimed by Harsimrat Kaur, was Punjab's right.
World
Coronavirus has spread to 188 countries. The total confirmed cases worldwide are 61,66,904 and 3,72,023 have died; 31,53,584 are active cases and 26,41,297 have recovered as on June 1, 2020 at 9:54 am.
India
In India, there are 1,90,535 confirmed cases including 5,394 deaths. The number of active cases is 93,322 and 91,819 have recovered as on June 1, 2020 at 8:00 am.
State & District Details
State
Cases
Active
Recovered
Deaths

67655 2487

36040 1150

29329 1248

2286 89

Sri Potti Sriramulu Nell*

257

3679 110

1268 48

2349 60

62 2

3221 299

1952 75

1218 221

51 3

70

28

42 1

0

22333 1149

9403 379

12757 757

173 13

1269 61

670 46

590 15

9

498 51

382 38

115 13

1

Jayashankar Bhupalapally

9

2698 199

1188 178

1428 16

82 5

1948 129

815 53

1126 76

7

8089 198

2897

4842 398

350 7

16779 436

5822

9919 689

1038 31

8831 214

2710 25

5927 188

194 1

2091 168

1023 91

1048 77

20

7823 378

2901 67

4709 299

213 12

19844 1295

10893 835

8478 403

473 57

1272 87

1083 65

185 22

4

1

1

0

0

3815 179

2084 86

1710 92

21 1

5501 371

3027 176

2157 187

317 8

North And Middle Andaman

1

33

0

33

0

70 19

45 8

25 11

0

4

3

1

0

43 7

43 7

0

0

2

2

0

0

610 47

349 47

256

5

313 45

140 44

173 1

0

74

31

43

0

2446 105

1491 86

927 19

28

331 18

206 9

120 9

5

Shahid Bhagat Singh Nagar (Nawanshahr)

95

2263 30

231 9

1987 20

45 1

907 158

800 158

102

5

71 9

60 6

11 3

0

293 4

90

199 10

4

27

14

12

1

1

0

1

0

0

0

0

0