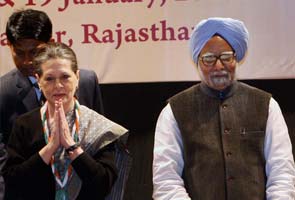 Jaipur:
Top Congress leaders brainstormed on the party's strategy for the 2014 elections at the two-day Chintan Shivir in Jaipur. The focus was also on how the Congress can pull the alienated masses, who are stung by corruption and rising prices, back into its fold.
Here are some reactions from the Chintan Shivir and outside it:
DAY 2Kamal Nath, Parliamentary Affairs Minister

There are two kinds of coalitions, pre-election and post- election. We should keep pre-election coalitions to the minimum so that our spread continues. Post-election, if we do not have the numbers, we have to stitch together a coalition. That's a reality in all parliamentary democracies.
Sanjay Nirupam, Congress leader
It has almost been announced that the Congress is going to fight the 2014 elections under the leadership of Rahul Gandhi. He is our candidate for the post of prime minister after the 2014 elections.
Veerappa Moily, Petroleum Minister

Rahul Gandhi is our leader in the present and for the future.
Ravi Shankar Prasad, Spokesperson, BJP

The Congress's Chintan Shivir has become a
chinta
(matter of worry) for the Congress. Why has Sonia Gandhi raised all these issues in her speech after nine years of being in power?
Manmohan Singh has always been projected as a distinguished economist. After nine years, I am tempted to ask why the GDP is falling and prices rising.
DAY 1Sonia Gandhi, Congress president
(On corruption)
Our citizens are fed up with the levels of corruption that they see in public life at high levels, but equally with the corruption they have to deal with in their daily lives.
(To the youth)
"Seeing so many of our younger colleagues here, I am tempted to say something on a subject that has always bothered me. And this relates to our lifestyles. Celebrating wedding, festivals and happy events is one thing but what of lavish ostentatious displays of wealth, pomp and status? Does this not beg the question where is this wealth coming from?
(On Pakistan)
Let us be very clear that dialogue (with Pakistan) must be based on accepted principles of civilised behaviour.
(On people)
We cannot allow our growing educated and middle-classes to be disillusioned and alienated from the political process.

(On women)
I say with the greatest anguish and pain that discrimination against the girl child continues. Atrocities on women, both in urban and rural India, are a blot on our collective conscience and a matter of great shame.
(On coalition politics)
There is increased competition and inroads have been made in our traditional strongholds. We have to strike a fine balance between respecting alliances and ensuring rejuvenation of the party.
(On Congress)
We are the only pan Indian party with a visible and viable position in every village. We articulate the concerns of all, especially the weaker sections of the society. Inclusiveness is anchored in our conviction, not the outcome of compulsion as it may be for our opponents.
Rahul Gandhi, Congress General Secretary
Respect the ordinary worker who works for the party night and day. Make him feel important and don't ignore them for party posts.
P Chidambaram, Finance Minister

To make the organisation energetic, all vacant posts of Congress block president should be filled by candidates below 35.
Digvijay Singh, Congress General Secretary
The sentiment of Congress worker is that Rahul Gandhi plays a larger and predominant role in the Congress... (But) Please allow Rahul to do his own thing. Let him define his role. Why to pressurise him?
Nirmala Sitharaman, BJP spokesperson
From the speech of Sonia Gandhi, they are already giving signs that they are missing an opportunity. An honest review does not seem to be in the offing. I say this as she has failed to acknowledge that the government lacks leadership, lacks integrity and certainly lacks direction.
(With inputs from agencies)