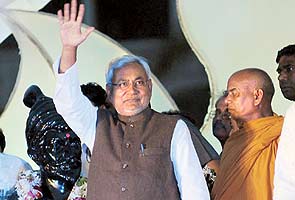 New Delhi:
As a worried BJP chief Rajnath Singh assesses today whether the cracks in his party's partnership with the Janata Dal (United) can be filled, the ruling Congress will look at adding the considerable weight of a Rs 12,000-crore financial package to ensure those fissures deepen.
The Cabinet Committee on Economic Affairs will this evening discuss sanctioning to Nitish Kumar's Bihar Rs 3000 crore a year for the next four years under the Backward Regions Grant Fund. This is double the amount allocated to the state by the Planning Commission last year and the timing is sweet.
General elections are a year away and the Congress, which is shopping for allies, has made no attempt to disguise its interest in Mr Kumar's JD(U), which has a healthy 20 MPs in the current Lok Sabha. It sees an opportunity in the heightening hostility between the BJP and JD(U), who are partners in the National Democratic Alliance or NDA and govern Bihar together.
Last weekend, Bihar Chief Minister Nitish Kumar made a scathing attack on his counterpart in Gujarat, the BJP's Narendra Modi. Without naming Mr Modi he made it clear that the Gujarat CM was not acceptable to his party as the NDA's presumptive Prime Minister in next year's elections. The JD(U) says the shadow cast on Mr Modi's career by the communal riots of 2002 in Gujarat rule him out.
(Sparring between BJP, Nitish's men gets more toxic)
A stung BJP has warned that no "unfounded inferences" should be drawn against Mr Modi, who is the top choice of party cadres to lead the campaign for the 2014 elections. The Deputy Chief Minister of Bihar, Sushil Kumar Modi of the BJP, took on his boss yesterday saying, "it is unfortunate and objectionable the way JD(U) leaders attacked Narendra Modi."
Bihar's Mr Modi and several other BJP leaders from the state are scheduled to meet Rajnath Singh in Delhi today, where they will complain about Mr Kumar's attacks on Narendra Modi. They will also discuss the party's poll preparedness and how it will fare in the state's 40 Lok Sabha seats if it contests alone.
Yesterday, a senior JD(U) minister in Nitish Kumar's government said the two parties will contest the national elections separately.