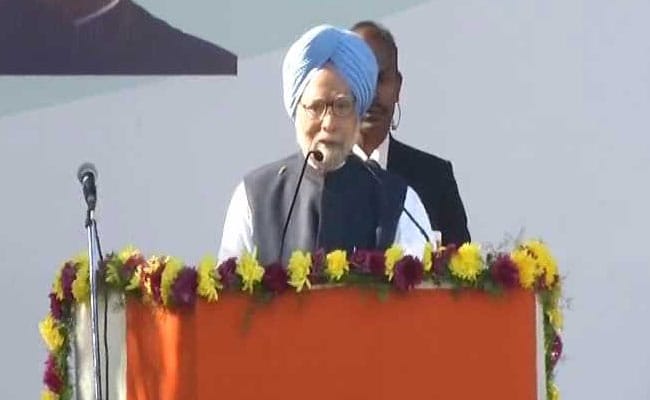 New Delhi:
Former prime minister Manmohan Singh said today that Congress chief Rahul Gandhi will sustain the "politics of hope" which is needed by the country and not allow the "politics of fear" to take over.
Certain "disturbing trends" are noticeable in the country's polity and the people depended on Rahul Gandhi to transform it, Dr Singh said in his brief address at an event where Rahul Gandhi took charge as Congress President.
He described the day as "unique" in the party's history and said Rahul Gandhi's leadership brings a new sense of dedication and commitment which will steer the party to greater heights of glory.
Dr Singh also praised outgoing Congress chief Sonia Gandhi for the "powerful and magnificent" leadership provided by her to the Congress party that will go down in the annals of its history.
"Rahul ji today is taking over as the the president of the party at a time when there are certain disturbing trends noticeable in our polity."
"As a distinguished academic pointed out a few days ago, there are dangers that the 'politics of fear' will take over from the politics of hope," the former prime minister said, ostensibly targeting the BJP.
"Rahul ji, we depend upon you to transform that area, that fear of politics will transform, to sustain the politics of hope, which this country needs," Dr Singh said.
He said the country is still faced with problems like poverty, ignorance and disease with millions still afflicted with them.
Recalling the 19 years of Sonia Gandhi's leadership, he said he has worked with her as CWC member and as prime minister for 10 years.
He said the government headed by him under Sonia Gandhi's guidance took some historic decisions that includes enactment of some "unique social legislations". He recalled MNREGA and the Right to Information in this regard.
Dr Singh said the growth rate of the country was at an all-time high at an average of 7.8 per cent per annum during the period and 140 million people were lifted out from poverty.
"Now that Sonia ji is handing over the reins to Rahul ji, we salute Sonia ji for the magnificent leadership that she has provided in these last 19 years," he said.
The former Prime Minister also said that Rahul Gandhi has been trained for a long period as he has been looking after many of party's activities for many years.
"He brings to this office of the Congress President a new sense of dedication, a new sense of commitment, a new sense of looking after the leadership role," he said.
Dr Singh expressed the hope that Rahul Gandhi, who has travelled all over the country, knows the problems first hand and under his leadership the party will scale new heights of glory.
"May your path be blessed," he said ending his speech after conveying his and partymen's best wishes to the new party chief.