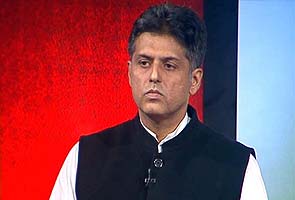 New Delhi:
Union Minister Manish Tewari today took a dig at Gujarat Chief Minister Narendra Modi, who is being described in the cyber world as 'Feku' (bragger).
The Information and Broadcasting Minister was addressing a gathering after unveiling the 24th 'Cinema Special Edition' of the Limca Book of Records in New Delhi.
Mr Tewari spoke about efforts made by the UPA government for the film fraternity such as proposed changes in Cinematographic Act and a single-window system for granting permission to foreign movie makers to shoot in India.
"But the kind of narrative which has been going on in this country...the claims, the counter-claims. You know the developmental credits, empowerment credits which are being put forth," he said.
"I do not want to use that expression but the synonymous expression in Punjabi is called 'Shekhi Master'. I do not want to use the word 'Feku', but I hope you don't have to add another award for the 'Feku of the Year'," he said.
Later, when mediapersons queried about the use of the word 'Feku' in his speech, Mr Tewari said, "Golden words are not repeated again and again. You all are political analysts. You do political analysis daily. Keeping in mind the recent events and what I said, try and bring out your own conclusion."
Some tweets on social networking site Twitter recently termed Modi as 'Feku' for taking credit for development in Gujarat.
Asked as to when Congress will declare Rahul Gandhi as its Prime Ministerial candidate, Mr Tewari said, "Your job is to give news and our job is to make political strategies. But it is not our job to react to every news or confirm every news."
He also said Mr Gandhi and Prime Minister Manmohan Singh have already clarified the party's position on the issue.