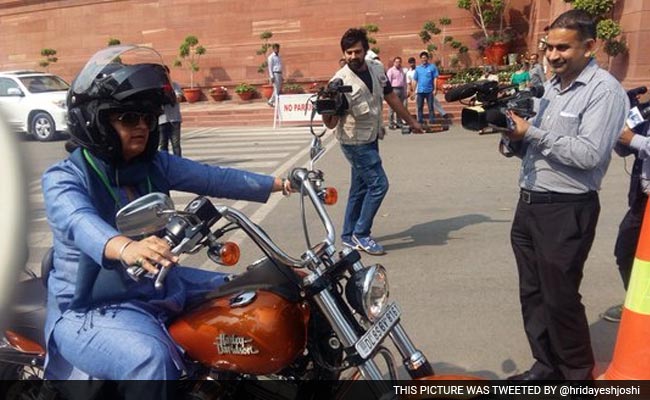 Highlights
MP Ranjeet Ranjan rides into Parliament on a Harley Davidson bike
The 39-year-old is a Congress MP from Supaul, Bihar
Her husband, Rajesh Ranjan aka Pappu Yadav, is also a Lok Sabha MP
New Delhi:
On International Women's Day, politicians like Sonia Gandhi and Hema Malini delivered impassioned reminders in Parliament about the stalled proposal that sets aside a third of all seats for women.
Outside Parliament, the high point belonged to Ranjeet Ranjan of the Congress who pulled up on a roaring motorcycle - a swanky, rust-coloured Harley Davidson -wearing a helmet and sunglasses.
The arrival of Ms Ranjan, 42, was preceded by nervy moments for security. After the 2001 attack on Parliament in which terrorists drove into the complex and opened fire, killing eight, all vehicles that enter Parliament need a sticker that indicate they are cleared for the area. But Mr Ranjan's new bike was missing this so she was stopped briefly before the office of Speaker Sumitra Mahajan gave its sanction for her motorcycle.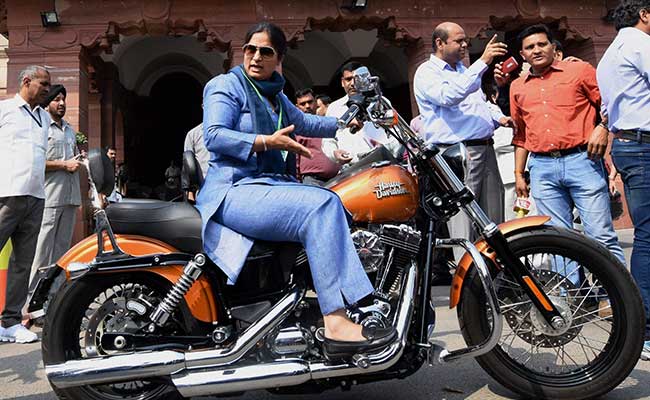 Ms Ranjan then rode around Parliament before going inside to attend the day's proceedings.
Ms Ranjan represents Bihar in the Lok Sabha and is known for her aggressive speeches. She is married to Rajesh Ranjan or Pappu Yadav, who is also an MP from Bihar, making them the only married couple in the Lok Sabha.
Ms Ranjan said that she does not allow anyone including her husband to touch her bike, which she said she bought from her own earnings. Pappu Yadav is however, occasionally granted pillion privileges.