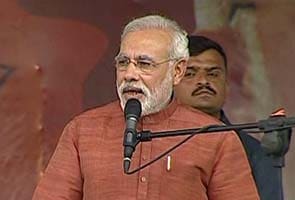 Gujarat Chief Minister Narendra Modi today addressed a youth conclave at the Lal Bahadur Stadium in Hyderabad. Beginning his speech in Telugu, Mr Modi urged the people to vote out the "corrupt" Congress government and bring in the Bharatiya Janata Party. Mr Modi attacked the government on every issue that has been plaguing the country of late - ceasefire violation, Chinese incursion, fall of rupee, among others. Here are the highlights of his address:
You celebrate Hyderabad Liberation Day on September 17 and that is also my birthday. So it is a special occasion.
I salute the youth of Hyderabad.
There was a Sikh family that came and settled in Hyderabad. Their son, who is in Canada, wrote in on Twitter saying his mother wanted to meet me and she came and blessed me today. I feel grateful.
A freedom fighter came to meet me today. He went on hunger strike for three days to meet me. He told his family he won't eat unless allowed to meet me. I salute him.
There is a trust deficit between the government and the people.
There are many people here but many more are assembled outside. I apologise to them. There may not be enough space here in the stadium but my heart is big enough for all of you.
I assure you that whenever I get the next opportunity, I will come again to Hyderabad and will meet those whom I couldn't meet today.
Pakistan Army killed our soldiers. What is our government doing?
The Indian public is suffering. The people are infuriated. So many lives have been destroyed in Kashmir. So many shops have been ruined. So many houses have been gutted.
Mr Arun Jaitley wanted to review the situation in Kishtwar today, but the Jammu and Kashmir government prevented him from visiting to hide the truth. He was detained at the Jammu airport today.
This is not just about Kishtwar. This is about the nation as a whole. This government cannot protect the country.
This government is all about vote-bank politics.
China intruded into our territory, but the government, instead of forcing it to return, signed deals with it, agreeing to withdraw our own troops.
It is shameful that the External Affairs Minister, despite the repeated incursions by China, went to Beijing and praised the city, going to the extent of saying that he wished he could stay there.
Why is protocol being followed with a nation (Pakistan) that is killing and decapitating our soldiers?
Italian marines came and shot dead our two fishermen. They were arrested but given bail and released and allowed to go back to their own country. Whose influence was it?
Why am I saying all this? It is because this government is not concerned about anything. It does not care about the Indian public.
I am worried about the youth of this country.
I am worried what will happen to them.
Maharashtra and Andhra Pradesh have the highest number of youth suicides. Both the states are ruled by Congress-led governments.
When Chattisgarh was formed, there were celebrations in Madhya Pradesh and Chattisgarh...Congress has turned brother against brother. BJP has always been in favour of Telangana.
Why did you not start the process of forming Telangana in 2004? They don't have the best interests of the people in mind.
For us, Telangana is as important as Seemandhra. I come from Gujarat - the land of Gandhi and Sardar Patel. I appeal to ypou, no matter what games Congress plays, don't fight amongst yourselves.
For the past few years, we have been hearing a term - 'inclusive growth'. Why now? Why not earlier? It is because for the past 60 years, the Congress has excluded everyone from development and growth.
The Congress party has become a burden on all.
I want to remember NTR today. The biggest tribute to him would be a Congress-free India.
Corruption has ruined our country.
Our leader LK Advani demanded that the black money stuffed in foreign bank accounts be brought back. But the government did not pay any heed to it.
The Supreme Court has appreciated the efforts of Chhattisgarh Chief Minister Raman Singh who modernised and modified the PDS system to ensure food for the poor. But not a single Congress leader said anything about it.
Madhya Pradesh Chief Minister Shivraj Singh Chouhan has taken a number of steps for the girl child. It is praiseworthy.
At independence, one rupee was equal to one dollar. Today one dollar is equal to 61 rupees.
Education level in the country is faltering. The youth are going abroad for education. Can't the government of India do something about it? It isn't.
Who is going to take care of the Dalits, the backward castes, the fishermen? Not the Congress. They only care about votes.
Our Indian youth is skilled and talented but they don't have jobs.
Today, I want to tell you about the kind of government I want.
The government has only one motto - India first. It has only one holy book - the Constitution of India. It has only one bhakti - Bharat bhakti; one shakti - koti koti jana shakti; one pooja - the welfare of our millions and one karyashaili - sabka sath, sabka vikas.
The money collected through the Rs 5 ticket fee will be used for providing relief to the Uttarakhand flood victims.