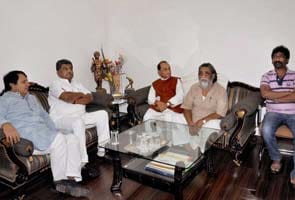 Ranchi:
With President's Rule scheduled to end in Jharkhand on July 18, JMM and Congress leaders today held talks on the possibility of formation of government in the state.
AICC General Secretary Shakeel Ahmed, Congress in-charge of the state B K Hari Prasad, JPCC president Sukhdeo Bhagat, and CLP leader R P Singh called on JMM supremo Shibu Soren and his son, Hemant.
"They called on Guruji (Shibu Soren) and Hemant Soren to discuss government formation," JMM General Secretary Suprio Bhattacharya said in Ranchi.
A Congress leader said Mr Ahmed, Mr Prasad, and some other party leaders would leave for Delhi to carry on the dialogue with the JMM there amidst heightened possibility of government formation with the support of RJD and some independent MLAs.
"I will tell you tomorrow," Hemant Soren, a former deputy chief minister, said when asked about the initiatives on government formation.
RJDs Legislature Party leader Annapurna Devi, said, "We don't know anything about their initiatives on government formation. Nobody has contacted us."
"Why didn't they take this initiative after Presidents rule was imposed? Why this delayed?" she asked.
She, however, said, the party would abide by RJD chief Lalu Prasad's directives.
With 36 MLAs - JMM (18), Congress (13) and RJD (5) - Congress and the JMM leaders were banking on the support of some independent MLAs for a simple majority of 42 in the 82-member Assembly.
A couple of independent MLAs had been in the erstwhile BJP-JMM coalition government in the state before the JMM withdrew support on January 8 this year, leading to the imposition of central rule on January 18.