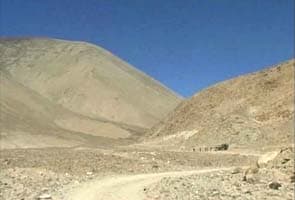 New Delhi:
In a deep incursion, Chinese troops have entered the Indian territory in Daulat Beg Oldi (DBO) sector in eastern Ladakh and erected a tented post, setting the stage for a face-off with Indian troops.
A Platoon-strength contingent of China's People's Liberation Army (PLA) came 10 kilometres inside the Indian territory in Burthe in DBO sector, which is at an altitude of about 17,000 feet, on the night of April 15 and established a tented post there, according to highly placed sources, which said that a Chinese Army Platoon usually consists of around 50 men.
Troops from Indo-Tibetan Border Police (ITBP) have also established a camp approximately 300 metres opposite the location, the sources said.
Reacting to the development, government sources said, "This is an area where there have been differing perceptions of the Line of Actual Control (LAC). Incidents do occur and are resolved peacefully on the basis of bilateral agreements which exist and mechanisms provided for in these agreements. Both sides are in touch on this availing the Working mechanism for consultation and coordination on India-China border Affairs. We are confident that the current incident too will also be peacefully resolved."
DBO, located in northernmost Ladakh, is a historic camp site and located on an ancient trade route connecting Ladakh to Yarkand in Xinjiang, China.
It lies at the easternmost point of the Karakoram Range in a cold desert region in the far north of India, just eight kilometres south of the Chinese border and nine kilometres northwest of the Aksai Chin LAC between China and India. Temperature plummets to as low as minus 30 degree Celsius in the winters.
Other than Siachen Glacier military base, it is India's northernmost built-up area. The nearest inhabited town is Murgo to the south, which has a small population of Baltis who primarily depend on apricot farming and yak rearing.