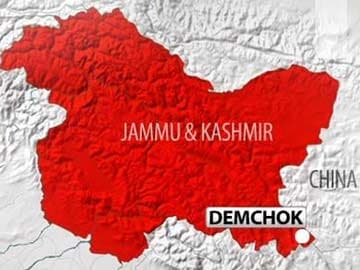 New Delhi:
In yet another incident of intrusion by the Chinese, graziers reportedly pitched tents in the Demchok area of Ladakh in Jammu and Kashmir this week but withdrew after talks between troops on either side of the border.
Sources say the incident happened on July 22 when the graziers put up three tents at the Charding Nilu Nullah Junction in the Demchok sector, which is situated along the Line of Actual Control (LAC), the de-facto border between India and China
An Indian patrolling team was reportedly sent to the spot; a patrol from China's People's Liberation Army (PLA) also arrived soon after. Sources say a flag meeting between the commanders from both sides finally resulted in the Chinese agreeing to move back the graziers a day after.
The incident comes on the back of two reported incursion attempts by Chinese troops earlier this month in Demchok and Chumar areas in Ladakh.
"Incursions along the border take place due to the difference of perception about boundary," Home Minister Rajnath Singh had then said in response to the reported incursions.
Earlier this month, Prime Minister Narendra Modi and Chinese President Xi Jinping met on the sidelines of the BRICS summit in Brazil, where the two emphasised on the need for speedy negotiations to settle disputes over the 4,000-km Himalayan border. Mr Modi called for strengthening "mutual trust" and maintaining peace on the border, the government had said in a statement.
China claims more than 90,000 sq km (35,000 sq miles) in the eastern sector of the Himalayas. India says China occupies 38,000 sq km of its territory on the Aksai Chin plateau in the west.