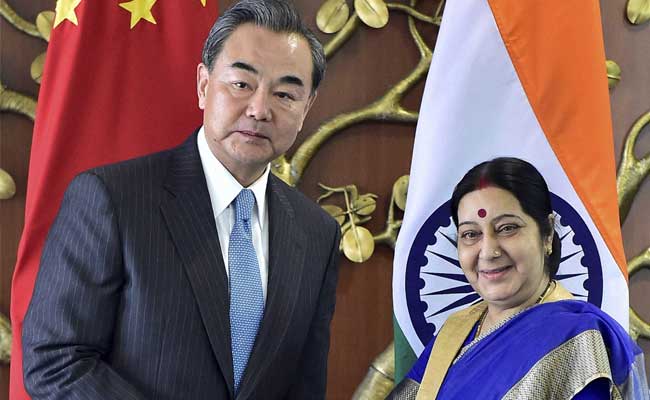 Beijing:
China is "unlikely" to give up on the USD 46 billion China-Pakistan Economic Corridor being built through Pakistan-occupied Kashmir despite India's protests, but it may not be interested in taking sides in the Kashmir dispute due to close economic ties with both nations, state-run media said today.
"It is regrettable to see CPEC become another inharmonious factor in Sino-India ties, but China is unlikely to give up on the idea of CPEC because of India's protest," an article in Global Times said.
"In fact, the economic corridor, linking northwest China's Xinjiang Uyghur Autonomous Region to Gwadar Port in southwestern Pakistan, does not target any third party, India included. Given that China has developed close economic ties with both India and Pakistan in recent years, Beijing is unlikely to be interested in taking a side between the two countries," it said.
Significantly, the article uses the term "Pakistan-occupied Kashmir" (PoK) twice even though at one place it makes the mention attributing it to Indian media reports.
"External Affairs Minister Sushma Swaraj voiced India's concerns over the China-Pakistan Economic Corridor (CPEC), which passes through Pakistan-occupied Kashmir (PoK), during Chinese Foreign Minister Wang Yi's India trip, Indian media reported," the article said.
"It is precisely because of the region's worsening investment environment that PoK's economy is still heavily reliant on agriculture. Also, the northern part of India bordering Pakistan" both lack basic infrastructure, the article stated.
Chinese media usually refers to PoK as 'Pakistan-administered Kashmir'.
Another state-run news outlet, the People's Daily which published photos of Chinese and Pakistani troops patrolling together for the first time in Pakistan-occupied Kashmir last month referred to the area as China-Pakistan border.
Global Times is part of People's Daily publishing group controlled by the ruling Communist Party of China (CPC).
In its article, the Global Times said, "the dispute over Kashmir between India and Pakistan makes the two countries habitually vigilant against any possibility of large-scale foreign investment flowing into the region, but it is the Kashmir conflict itself, rather than any alleged political intent behind the foreign investment, that creates tension in the region".
"Rather than prevent foreign investors from entering the region as a solution to concerns over CPEC, India should focus on its negations with Pakistan to settle the Kashmir dispute," it said.
"The CPEC is not a zero-sum game where Pakistan gains and India loses. If economic cooperation between China and Pakistan can improve infrastructure in the region, including in the Kashmir area, India will have an opportunity to expand trade routes to Central Asia," the article said.
"New Delhi may need to adopt an open attitude toward CPEC so the project can speed up development in the region and benefit the local population. Hopefully India can also improve infrastructure in the regions bordering Pakistan to promote regional economic integration," the article said.
"Any way in which India can put aside politics and join in the task of economic development would be welcome," the article said.
"Economic cooperation between India, Pakistan and China would create an open atmosphere for launching talks to solve the Kashmir dispute. In this regard, New Delhi may need to take the long view for its national interests," it said.