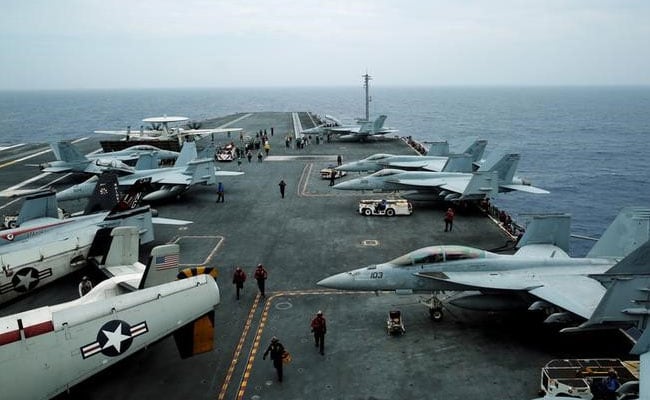 Highlights
Australia asks to be part of July's naval exercises: news agency Reuters
Drills include US, Japan and India, Delhi rejects Australia: report
India worried that expanding naval drill will enrage China: report
New Delhi:
China has
welcomed reports
that India has refused to allow Australia to join naval exercises with the United States and Japan in July. Beijing had earlier warned against expanding the drills.
"I have seen the relevant reports on the refusal made by India for the invitation. I think India is also clear about the consideration behind this behaviour," said a Chinese government spokesperson Hua Chunying said today.
Last year, Chinese media sharply criticised what are known as the Malabar exercises saying that they are designed to target China.
Australia formally wrote to the Indian defense ministry in January asking if it could send naval ships to join the July wargames as an observer, according to news agency Reuters, in what military experts saw as a step toward eventual full participation.
Four officials from India, Australia and Japan told Reuters that India blocked the proposal and suggested that Canberra send officers to watch the exercises in the Bay of Bengal from the decks of the three participating countries' warships, instead.
New Delhi is worried that China will step up activities in the Indian Ocean where it is building infrastructure in Sri Lanka, Bangladesh and Pakistan, feeding India's anxiety about being encircled, Indian military sources and diplomats said.
Indian navy officials say there have been at least six submarine deployments by China in the Indian Ocean since 2013 and that Chinese submarines have been docking in Sri Lanka and its long-time ally Pakistan.
India and China relations have slumped in the last few months over a series of issues including Beijing's blocking of Delhi's entry into the Nuclear Suppliers Group, a bloc of 48 countries that controls trade in sophisticated nuclear technology and material.
China has also been concerned that Prime Minister Narendra Modi's government has stepped up public engagement of the Dalai Lama, the Tibetan spiritual leader who lives in exile in Dharamsala and whom it regards as a dangerous separatist.
The Malabar exercises started out as India-US drills in 1992 but have included Japan every year from 2014.
Dozens of warships, submarines and aircraft take part in the wargames, which are aimed at getting the three powerful navies used to working together. US military officials say this will help in future operations, including joint patrols across the Indian Ocean and the Pacific.
The exercises are now held in waters close to the East and South China Sea as well as the Indian Ocean.
China, which claims most of the South China Sea, has protested the expansion. An Australian official, speaking on condition of anonymity because of the sensitivity of the matter, told Reuters that it was increasingly unlikely Canberra would join the drills although it was keen to do so - Australia has also traditionally been wary of upsetting China, its largest trading partner.