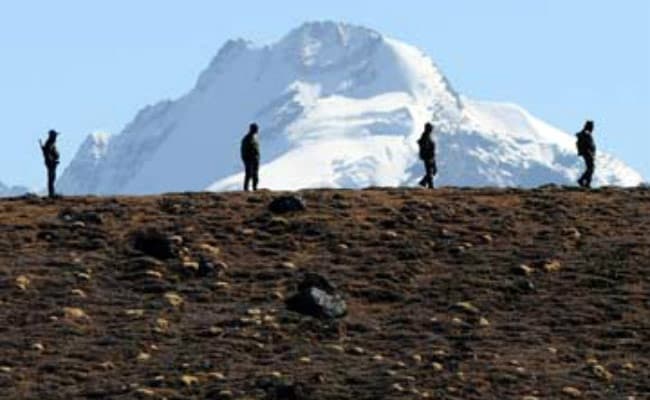 New Delhi:
As nuclear posturing between North Korea and the United States rivets the world, a quieter conflict between India and China is playing out on a remote Himalayan ridge - with stakes just as high.
For the past two months, Indian and Chinese troops have faced off on a plateau in the Himalayas in tense proximity, in a dispute prompted by moves by the Chinese military to build a road into territory claimed by India's close ally, Bhutan.
India has suggested that both sides withdraw, and its foreign minister said in Parliament that the dispute can be resolved only by dialogue.
Yet China has vociferously defended the right it claims to build a road in the Doklam area, land it also claims.
Since the dispute began, the Chinese Foreign Ministry has issued an angry stream of almost daily denunciations of India and its "illegal trespass" and "recklessness," along with demands that New Delhi withdraw its troops "if it cherishes peace."
Incursions and scuffles between the two countries have long occurred along India and China's 2,220-mile border - much of which remains in dispute - although the respective militaries have not fired shots at each other in a half-century.
Analysts say that this most recent dispute is more worrisome because it comes at a time when relations between the two nuclear-armed powers are declining, with China framing the issue as a direct threat to its territorial integrity. For the first time, such a conflict involves a third country - the tiny Himalayan kingdom of Bhutan.
And the potential for dangerous clashes elsewhere on the rugged mountainous border remains real, analysts say. Indian and Chinese patrols jostled each other and exchanged blows Tuesday morning by a lake in the Ladakh region of the Indian state of Jammu and Kashmir, according to local reports.
"It would be very complacent to rule out escalation," said Shashank Joshi, an analyst with the Royal United Services Institute in London. "It's the most serious crisis in India-China relations for 30 years."
The standoff also reflects an expanding geopolitical contest between Asia's most populous nations. As China fortifies islands in the South China Sea and exerts its influence through ambitious infrastructure projects throughout the continent, its dominance of Asian affairs is growing, as is its unwillingness to brook rivals. India is seen by some as the last counterbalance.
"The most significant challenge to India comes from the rise of China, and there is no doubt in my mind that China will seek to narrow India's strategic space by penetrating India's own neighborhood. This is what we see happening," former Indian foreign secretary Shyam Saran said recently at an event in New Delhi.
The incident began in mid-June, when a crew from the People's Liberation Army, the PLA, entered a remote plateau - populated largely by Bhutanese shepherds - with earth-moving and other equipment and "attempted to build a road," India's Ministry of External Affairs said in a statement.
They were confronted by a Royal Bhutan Army patrol; Indian soldiers pitched tents there two days later. India and Bhutan - a country of just under 800,000 - have long had a special relationship that includes military support and $578 million in aid to Bhutan.
India says the road would have moved Chinese troops closer to India's strategically important Siliguri Corridor, known as the Chicken's Neck, the narrow stretch of land that separates India's northeast from the rest of the country.
China asserted that more than 270 Indian border troops, carrying weapons and driving two bulldozers, "flagrantly crossed the boundary" and advanced about 100 yards into Chinese territory.
The roots of the distrust between the two nations go back to India's decision to shelter the Dalai Lama in 1959, when the spiritual leader fled Tibet during an uprising there, and to China's invasion during a brief border war in 1962.
There was a marked deterioration in relations after India signed a nuclear cooperation agreement with the United States in 2005 and ties deepened between the two large democracies.
In 2014, Narendra Modi came into office as the most pro-China Indian prime minister since 1962, wanting not only to emulate China's economic progress, but also to attract Chinese investment, analysts say.
But he found Chinese President Xi Jinping to be an unreliable partner, as China blocked India's application to join the Nuclear Suppliers Group and blocked efforts to declare Pakistani militant Masood Azhar a terrorist at the United Nations.
When China's sweeping Belt and Road development initiative added an economic corridor through parts of Pakistan-occupied Kashmir, the tensions rose sharply. Modi snubbed a major summit in Beijing that launched the Belt and Road plan this year.
Meanwhile, India alarmed China by allowing the Dalai Lama to visit an important Buddhist monastery in India's northeastern state of Arunachal Pradesh this year, a region Beijing claims is part of Tibet.
"India has tolerated and supported Tibetan separatists, allowing the Tibetan independence groups to set up an 'exile government' in India," said Long Xingchun, director of the Center for Indian Studies at China West Normal University in Nanchong.
Two months in, a few hundred Chinese and Indian troops remain hunkered down on the plateau - and the threat of violence remains real.
Xu Guangyu, a retired PLA major general, said China has been preparing to evict Indian troops if New Delhi does not back down but hoped that China's objective could be realized without bloodshed.
"We won't be the first to fire. We are very clear about this line, and this shows China's sincerity," he said. "But it's not up to China to decide. Whether there is to be war depends on the Indians. However, if they fire the first shot, they would lose control and the initiative."
India has undertaken a variety of preparedness measures with its eye on Chinese escalation, Joshi said, including advancing the operational alert status of several units by two months, which involves moving two of its mountain divisions toward the region and allowing troops to begin acclimatizing to higher altitudes.
"Clearly, there are a whole set of measures they've taken as discreetly as possible to shield themselves from snap Chinese offenses," Joshi said.