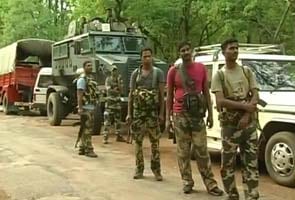 Raipur:
As NDTV's crew negotiated the bumpy road to murdered Congress leader Mahindra Karma's native village in Chhattisgarh, a marked difference could be seen. Security personnel were out in large numbers, scanning every inch for a possible threat. But two days ago, this was not the case when Mr Karma was shot in cold blood while returning from a political rally along with other leaders.
"When we went to Bijapur there was full security there, routes were covered, events covered very well. But this time there was no security... we had given the programme a month ahead to police headquarters," said Avadesh Gautam, former MLA, who survived the Saturday attack.
The Congress-led Centre and the BJP-led state government are now pointing fingers at each other.
"The Chhattisgarh Government has never provided adequate security even to Congress's Z+ security leaders... thousands of policemen accompanied Raman Singh on his convoys," said V Narayanasamy, Minister of State in the Prime Minister's Office.
The BJP said the Congress is trying to politicise the attack. "This is not a time for blame game... it is very unfortunate to make statements with political implications at a time of grief," said BJP General Secretary Rajiv Pratap Rudy.
Meanwhile, sources at the Centre told NDTV that there was no planning and preparation to ensure the safety and security of political leaders attending the rally. Sources claim that the state government had been alerted about the possibility of such an attack as operations in neighbouring areas could push the Maoists into Jagdalpur, the area of Saturday's attack. There was also a severe lack of coordination between the Central Reserve Police Force (CRPF) personnel dominating the area and the local police. Instead of planning security at a Superintendent of Police or Inspector General's level for the Congress' parivartan yatra being held in sensitive areas, security arrangements were left to individual police stations, sources added.
Home Ministry sources claim that little or no effort was made to sanitise the routes taken by the Congress leaders, but they concede that the Congress politicians may also be to blame as it's against security protocol that almost all the top Congress leaders of Chhattisgarh were travelling in a single convoy of 25 cars.
The state government insists that it is wrong to say they did precious little. In documents accessed by NDTV, Raman Singh's government says there were over 800 security men deployed for the Congress rally.
In Bastar alone, there were 308 security personnel for area domination. In Sukma, there were 108 for the rally and 409 others to sanitise routes.
However, when the Maoists attacked on Saturday evening, there were only 20 odd policemen who put up a brief but a brave fight.
People often complain that politicians don't go out to meet people, but that complaint has now been turned on its head because they were returning after a rally, when they were attacked. Whatever the probe by the National Investigation Agency will reveal, the big question is how do we protect our political leadership?