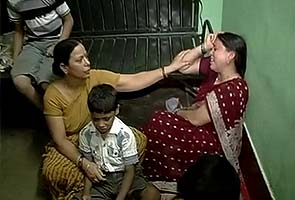 Raipur:
Among those killed in Chhattisgarh's deadly Naxal attack on Saturday was Prafful Shukla, the personal security officer of Congress leader Vidya Charan Shukla. The security officer reportedly shot himself when he realised that he could not protect the man he was meant to protect.
Before shooting himself, Mr Shukla reportedly told the Congress leader, "Sir, I have not been able to protect you. I take your leave."
"He spoke to me on Saturday and promised that he will be home by Sunday," Mr Shukla's younger son Aakash told NDTV, sitting beside his elder brother Vikas, a Class VIII student, who performed their father's last rites.
The family is grappling with the fact that Mr Shukla is no more. His wife says it should have been her instead.
His friends claim Mr Shukla was a "true patriot" and would often say he will never surrender before the Maoists.
Twenty four people, including top Congress leaders, were killed and 32 others injured in one of the deadliest attacks the state has witnessed. According to reports, attackers, numbering around 250, blasted a heavy Improvised Explosive Device (IED) to stop the convoy and then fired indiscriminately. Although the security men travelling with the Congress convoy fired back, they soon exhausted their ammunition and were cornered.
Senior Congress leader Mahendra Karma and Chhattisgarh Congress chief Nand Kumar Patel were shot dead in the attack. Congressman and former Union minister Vidya Charan Shukla was injured in the attack; he is in a critical condition in a hospital in Gurgaon, where he was flown to on Sunday morning.