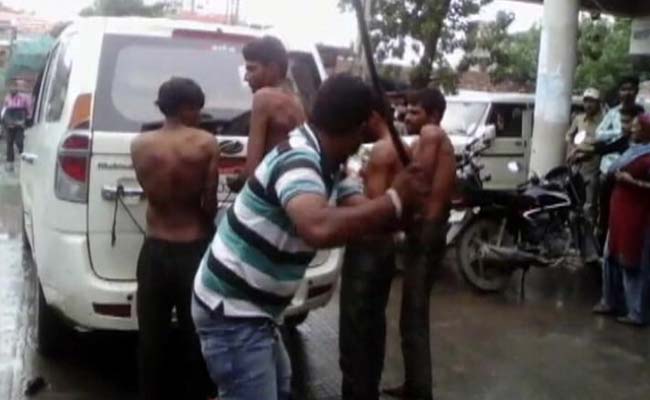 Ahmedabad:
Nearly two months after seven Dalit men were flogged allegedly by self-styled cow vigilantes at Una in Gujarat, police have filed a charge sheet against 34 persons, including four police personnel who were arrested today on charges of dereliction of duty and failure to stop the crime which triggered a massive unrest.
The CID also filed a separate charge sheet against three minors in the case before Juvenile Justice Board at Junagadh.
The charge sheet against 34 accused, including the police personnel, was filed before the court of Additional Chief Judicial Magistrate of Una taluka in Gir-Somnath district, AU Jujaru.
The police personnel, attached to Una police station, are identified as Inspector Nirmalsinh Jhala, Sub-Inspector Narendra Pandey, Head Constable Kanji Chudasama and woman Assistant Sub-Inspector (ASI) Kanchanben Parmar.
Except Mr Pandey, the rest are already under suspension. All of them were arrested in Una just before filing of charge sheet.
According to CID, the police personnel misused their position by not acting against the perpetrators.
It is alleged that though four Dalits were thrashed for almost 4 to 5 hours by self-proclaimed cow vigilantes, these police personnel did nothing to stop the crime. They also allegedly connived with the perpetrators and forged some FIR related documents to help them.
Some of the key accused, arrested in the initial stage of investigation, include Pramodgiri Goswami, Ramesh Jadav, Balwant Goswami, Rakesh Joshi and Nagji Vaniya.
The 34 accused have been charged under various sections of IPC including 307 (attempt to murder), 397 (robbery), 365 (kidnapping), 355 (assault to dishonor a person), 342 (wrongful confinement), 147 (rioting), 324 (causing hurt by weapon) and 120-B (criminal conspiracy) among others.
They were also charged under various sections of Prevention of Atrocities Act, besides under sections 66A and 66B of the Information and Technology Act for allegedly making and circulating the clip of the incident.
The CID filed a separate charge sheet against three minors, arrested during the probe, in Juvenile Justice Board at Junagadh.
"In total, we have arrested 43 persons, including these policemen who have failed to do their duty and forged some documents to help other accused involved in thrashing Dalits.
Out of the 43, we have today filed charge sheet against 34 accused in the Una court. The probe is still on," said Inspector General of CID-Crime, SS Trivedi.