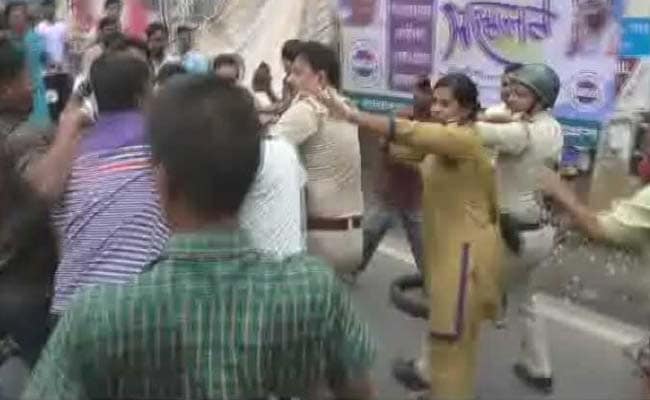 New Delhi:
Home Minister Rajnath Singh has asked West Bengal for a report on communal clashes in towns near Kolkata over a Facebook post. Mr Singh spoke to Chief Minister Mamata Banerjee this morning. Violence engulfed large parts of the North 24 Parganas district after a derogatory post on Prophet Mohammed by a 17-year-student of Baduria, who has been arrested. The centre yesterday rushed about 400 paramilitary personnel to the state.
Here are the 10 latest developments:
In Deganga, where the trouble was first reported, large gatherings have been banned. This morning, police and security personnel urged people through announcements on the public address system to maintain peace.

A violent mob put up road blockades at several places yesterday, attacked members of another community and destroyed shops, said the police.

On Monday, large crowds had blocked roads and rail tracks, disrupted train traffic. The violence started in Baduria, around 70 km from the state capital, and spread to other parts of the district.

The Kolkata police, in a tweet, appealed to people: "Please don't heed rumours. Morphs on social media are more vicious. City is peaceful. Report rumour-mongers at 100. Help us in keeping peace."

Governor Keshari Nath Tripathi discussed the situation last night with Home Minister Rajnath Singh after speaking on the phone to Chief Minister Mamata Banerjee.

The governor's office issued a statement last night responding to Ms Banerjee's charge that her phone conversation with Mr Tripathi left her "threatened and humiliated".

The governor had asked the Chief Minister to ensure peace and law and order by all means, said the statement, adding: "The governor cannot remain a mute spectator of the affairs in the state." Mr Tripathi expressed surprise over Ms Banerjee's "attitude and language".

Ms Banerjee had said earlier: "The way the governor spoke to me was like a BJP block leader. I was threatened, humiliated, I thought of leaving (quitting)... I was so insulted." In an unprecedented outburst, she railed: "The governor's behaviour was unacceptable. How dare he talk to me about law and order?"

Union Minister Mukhtar Abbas Naqvi alleged today that "anti-social elements" in Bengal were running a parallel government under state protection. "The manner in which this protected anarchy via a criminal conspiracy is instilling fear and shock amongst people is a serious issue," Mr Naqvi said.

Calling Ms Banerjee's comments on the governor in bad taste, the minister said: "It would have been in Mamata Banerjee's interest too had she used even 20 per cent of the strength being used to fight the Governor to ensure the removal of anti-social elements who are running a parallel government in West Bengal."