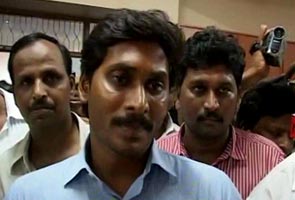 Hyderabad:
The Central Bureau of Investigation (CBI) has named YSR Congress chief Jagan Mohan Reddy and 12 others in a disproportionate assets case.
Jagan has been named accused number one and former home secretary of Andhra Pradesh and now suspended IAS officer BP Acharya has been named accused number nine. Vijay Sai Reddy, who is already in jail, has been named accused number two. Aurobindo, Hetero and Trident have also been named accused. So has Jagathi Publications that is named accused number 12.
The investigating agency submitted the 68-page charge sheet to special CBI court at Nampally Criminal Court complex in Hyderabad. The accused has been charge sheeted for the offences of criminal conspiracy, criminal breach of trust, cheating and using of forged documents as genuine.
The counsel of Jagan, however, says that he is only accused of abetting and helping his father in the chargesheet and that he is accused under the Prevention of Corruption Act.
The Supreme Court, earlier this month, had said six ministers, all from the Congress, and eight bureaucrats from the Indian Administrative Service, should explain their alleged role in a case of corruption against Jagan.
These 12 people were allegedly responsible for 26 deals between the government and different companies. The case against Jagan has been constructed on the basis of these agreements. The group of ministers includes Geetha Reddy, Sabitha Indra Reddy, Ponnala Laxmaiah, Dharmanna Prasad Rao, Kanna Laxminarayana and Mopidevi Venkatramana.
The ministers were working under Jagan's father, YSR Reddy, when he was chief minister. The case against Jagan states that his father used his office to help promote Jagan's business empire, making Jagan Mohan a very wealthy man. His assets last year totalled 365 crores.
Jagan had split with the Congress after his father died in a helicopter crash in 2009. He has formed his own party named after his father, the YSR Congress.
Jagan and his supporters have been arguing that it's unfair for him alone to be investigated. Though they stress Jagan's vast wealth has been legitimately earned, they say that if he was shown undue favour, others who were then in government must explain their role.
He had asked for the CBI, which is investigating the case against Jagan, to study who cleared the files for government contracts that eventually benefitted Jagan.
The investigation into Mr Reddy's wealth was ordered by the Andhra Pradesh High Court in August last year. Mr Reddy had appealed to the Supreme Court to stop the inquiry but that was not entertained.