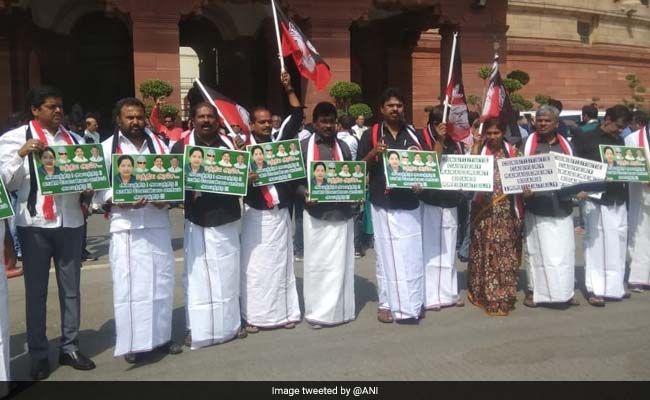 New Delhi:
The Supreme Court today agreed to hear Tamil Nadu's contempt petition against the centre for not forming the Cauvery Water Management Board on April 9. Advocate G Umapathy, appearing for the Tamil Nadu government, mentioned the matter for an early hearing. The Tamil Nadu government had asked Chief Justice Deepak Misra to take its petition tomorrow as the centre has not implemented the top court's order on the Cauvery water dispute, though the deadline to set up the Cauvery Board has lapsed.
"We understand Tamil Nadu's problem. We will see that Tamil Nadu gets water, and will solve the issue," a bench headed by Chief Justice of India Deepak Mishra said.
Tamil Nadu's ruling AIADMK had announced that it would hold a hunger strike across the state on April 2, from 8 am to 5 pm, in a bid to mount pressure on the centre to set up the Cauvery Management Board. Senior AIADMK leader M Thambidurai had also said his party would consider moving a no-trust motion in the parliament against the NDA government if the Congress supported it.
Here are the highlights of the Cauvery Row:
Two DMK workers allegedly made self-immolation bids in Coimbatore today amid a state-wide stir for setting up of Cauvery Management Board at the earliest to implement the Supreme Court's February 16 verdict on water allocation, reported Press Trust of India.
According to PTI, the two DMK activists who were identified as PT Murugesan and Singai Sadashivam, doused themselves with kerosene and tried to self immolate at Coimbatore, the police said.