New Delhi:
Highlights
The Chief Justice today said the court will solve issues of Tamil Nadu
The court to take up the state's appeal next Monday
Hundreds have staged protests led by AIADMK and DMK
Agreeing to take up Tamil Nadu's petition for
contempt against the central government
over the Cauvery water dispute, the Supreme Court today said: "We will see that Tamil Nadu gets water".
Tamil Nadu has told the Supreme Court that the centre should be hauled up for not setting up a Cauvery Management Board as the court had ordered. Last week, the centre asked the top court to clarify whether setting up the board would constitute a violation of rules in Karnataka, where elections have been announced for May 12.
Chief Justice of India Dipak Misra said: "We understand the problems of Tamil Nadu. We will solve the issue."
The court will take up Tamil Nadu's appeal next Monday.
The centre had told the court that the Cauvery water sharing is a
sensitive subject
and would have an impact on the Karnataka election.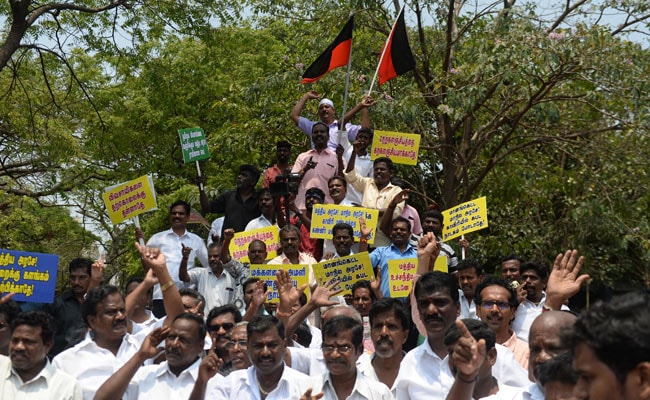 In February, the Supreme Court reduced Tamil Nadu's share of water from the river Cauvery and said Karnataka would receive a bigger share, which would benefit cities like its capital Bengaluru.
No state can claim exclusive right to a river passing through different states, said three judges of the Supreme Court including the Chief Justice, who said: "Drinking water has to be kept on the highest pedestal."
The verdict, ahead of the Karnataka elections, was claimed by the ruling Congress as a big win.
The Supreme Court said Tamil Nadu's irrigation area had not been assessed correctly and its government had not considered the availability of ground water.
The 765-km-long Cauvery river, also called the Ganga of the south, is the lifeline for Karnataka and Tamil Nadu. The river originates in Kodagu district in southern Karnataka and flows into Tamil Nadu, Kerala and Puducherry.
Get Breaking news, live coverage, and Latest News from India and around the world on NDTV.com. Catch all the Live TV action on NDTV 24x7 and NDTV India. Like us on Facebook or follow us on Twitter and Instagram for latest news and live news updates.