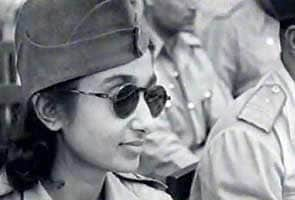 Kanpur:
As a huge crowd bid her the final farewell, veteran freedom fighter Captain Lakshmi Sahgal's body was on Tuesday taken to the GSVM medical college in Kanpur for research.
The body of Sahgal, who passed away yesterday at the age of 97, was taken in a procession from the McRobert hospital. Suhasini Ali, daughter of the freedom fighter and CPI (M) leader said, "As per her last wish, we have donated her eyes and her body would be donated for medical research and handed over to the Ganesh Shankar Vidyarthi Memorial Medical College".
Union Minister Vyalar Ravi, CPI(M)leader Brinda Karat, Mrs Sahgal's filmmaker grandson Shad Ali and other prominent media personalities paid their tributes at her last farewell.
Ms Karat remembered the leader as a "highly politically motivated human being who fought injustice wherever she saw it...She served people with every ounce of strength".
Yesterday, after her demise, leaders from across the political spectrum lauded Mrs Sahgal's contribution to the country.
Lakshmi Sahgal (97), who was part of Netaji Subhash Chandra Bose's Indian National Army, breathed her last at a private hospital at 11.20 AM yesterday.
She was admitted to the hospital on July 19 after she suffered a heart attack at her residence in the Civil Lines area here.