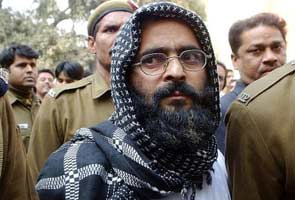 New Delhi:
Parliament attack convict Afzal Guru's body will remain in Delhi's Tihar Jail, where he was hanged and buried last month, Home Minister Sushil Kumar Shinde said today.
Mr Shinde's comments come amid the demand by Guru's family and major political groups in Kashmir asking for the return of the body. Even Jammu and Kashmir Chief Minister Omar Abdullah had written to Prime Minister Manmohan Singh earlier and demanded that the body be handed over to the family.
While ruling out that option, the Home Minister said that Guru's family can come and pay respects at his grave in Delhi.
Afzal Guru was hanged to death on February 9. His family was informed through speed post which was delivered to his family 48 hours after his execution.
Guru was found guilty by the Supreme Court in 2002 of providing accommodation and arms to the five terrorists who drove into Parliament in December 2001 and opened fire. A shootout with security guards followed. 14 people died, including all five terrorists.
Guru had said he was not guilty. His wife had filed a petition asking for his death sentence to be commuted, which was rejected by President Pranab Mukherjee days before Guru was hanged.