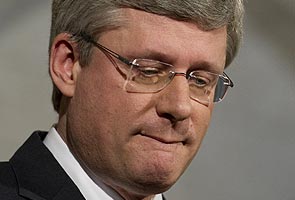 Chandigarh:
Canadian Prime Minister Stephen Harper will visit Chandigarh, Takht Keshgarh Sahib and 'Virasat-e-Khalsa' also known as the Khalsa Heritage centre at Anandpur Sahib in Punjab on Wednesday.
Mr Harper had visited Amritsar in 2009 and offered prayers at the Golden Temple.
Tight security arrangements are in place for Mr Harper's visit at Chandigarh and Anandpur Sahib in Punjab, official spokesman said in Chandigarh on Tuesday.
He is expected to arrive in Chandigarh on Wednesday afternoon and will visit Takht Keshgarh Sahib, the second most important Sikh shrine after Golden Temple, the same day and offer prayers.
Mr Harper will also visit Virasat-e-Khalsa, a museum located in Anandpur Sahib.
The museum, which opened in November last year, commemorates 500 years of Sikh history and 300 years of Sikh scriptures (the Khalsa).
Mr Harper, who will be accompanied by his wife, two ministers of Indian-origin - Bal Gosal (Sports Minister) and Tim Uppal (Democratic Reforms Minister) - and other dignitaries, is likely to hold talks with Punjab Governor Shivraj Patil at Raj Bhawan, sources said.
He will leave for Bangalore the next day.
Meanwhile, the Canadian consulate in Chandigarh described the proposed visit of the Prime Minister as "private."