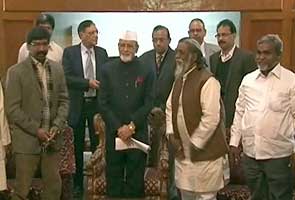 New Delhi:
The Union Cabinet has recommended imposition of President's Rule in Jharkhand, which is facing political instability, while keeping the Assembly in suspended animation.
After the fall of the BJP-led coalition last week, no party or combination of parties has been in a position to form a government in the state.
The Home Ministry had prepared a note on the basis of the report sent by Governor Syed Ahmed which was placed before the Cabinet today.
The Governor has recommended President's rule in the state while keeping the Assembly under suspended animation.
Jharkhand, which was created in 2000, has been placed under President's Rule twice.
This time, the need to impose President's Rule arose after the BJP's ruling coalition partner JMM, in a letter to the Governor on January 8, formally withdrew its support to the 28-month-old government pushing it into a minority.
In the 82-member state assembly, BJP and JMM have 18 members each. The Munda government had the support of six members of All Jharkhand Students' Union, two of Nitish Kumar's Janata Dal (United), two independents and one nominated member who has voting right in a trial of strength.
Opposition Congress has a total of 13 members, Jharkhand Vikas Morcha(P)11 and Lalu Prasad's Rashtriya Janata Dal 5 in the assembly. CPI-ML(L), Marxist Coordination Party, Jharkhand Party (Ekka), Jharkhand Janadhikar Manch and Jai Bharat Samta Party have one member each besides an independent.
(With inputs from PTI)