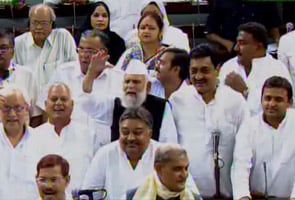 New Delhi:
The Cabinet today cleared a proposal to raise the Member of Parliament Local Area Development Scheme (MPLAD) fund for each MP from Rs 2 crore to Rs 5 crore.
There was a long-pending demand from MPs across party lines to increase their local area development fund, as they found it inadequate to serve the vast constituency areas.
At the same time, the government indicated that it would formulate tougher norms for the scheme. Many audit reports have shown a need to plug loopholes.
The scheme was first introduced by the Narasimha Rao government to help MPs execute small works of a local nature to meet the urgent needs of their constituents. It began with an initial annual grant of Rs 50 lakh per MP.
The Ninth Report of the Lok Sabha committee on MPLAD scheme suggested increasing the allocation to Rs 5 crore per MP in view of cost escalation.
(With Agency inputs)