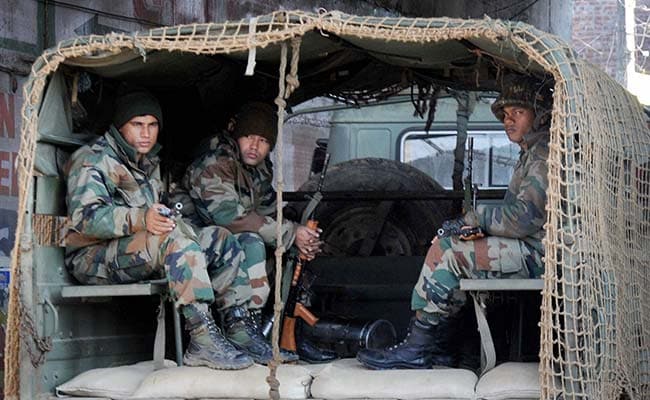 New Delhi:
The Border Security Force (BSF) will deploy around 2,000 additional personnel along the Punjab and Jammu borders in order to plug unfenced riverine and forest gaps even as it submitted a fresh report to the government today stating there was no evidence of infiltration along the IB in the wake of the terrorist attack on the IAF base in Pathankot.
Officials said Border Security Force submitted a report to the Union Home Ministry after force Director General DK Pathak undertook a forward area tour along the International Border (IB) yesterday, including at Bamiyal, a border village in Pathankot, which is believed to have been used by terrorists to infiltrate into the country and attack the air base.
They said the force has put forth the details of its night 'morchas' and movement of its patrol teams in these areas around the new year, when it is suspected that at least six terrorists crossed over from the other side and attacked the Indian Air Force base.
The force, in the report, has chronicled the movements and surveillance records of its satellite-based devices and imagers that detect intrusion and illegal movement along the border to validate its point.
"The force commanders have put forth the evidences to state that nothing has gone unnoticed from their eyes in the last few days," they said.
They said it has been decided to bolster the manpower to plug vulnerable gaps especially along Punjab and Jammu and it is estimated that about two battalions (about 2,000 troops) will be required for the task in the primary stages.
"However, the numbers for fresh deployment are being worked out," they said.
The border guarding force had submitted a report to the Centre two days back after analysing the possible route taken by the attackers of the IAF base, stating it had found no breach in the fence but added there were some gapping holes along the IB and malfunctioning of some of the electronic surveillance equipments it uses.
"There could be malfunctioning in a few percentage of devices which does not disturb the vigil along the border in any way," they said.
Senior BSF officials have been camping in Bamiyal and adjoining areas to take stock of the unfenced and riverine areas.
The Home Ministry had earlier asked the BSF to submit a report on the breach by terrorists who sneaked into India and carried out terror strike at the Indian Air Force base.
Defence Minister Manohar Parrikar had also said in Pathankot that the BSF has already been asked to give details of areas from where terrorists could have entered.