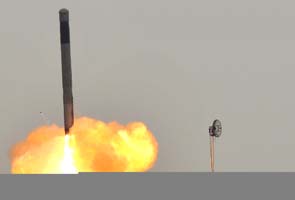 Panaji:
India today successfully test fired the 290-km range BrahMos supersonic cruise missile from the Navy's latest guided missile frigate INS Tarkash off the coast of Goa.
The missile performed the high-level 'C' manoeuvre in the pre-determined flight path and successfully hit the target.
The missile was launched from the Russian-built warship at 11:00 am, BrahMos Aerospace chief A Sivathanu Pillai said.
"The launch was carried out by the Navy as part of Acceptance Test Firing (ATF) of the ship," he said.
INS Tarkash, which is an advanced Talwar Class frigate, was commissioned on November 9, last year.
The warship, along with two other frigates of the class INS Teg and INS Trikand, have been built as part of an over Rs 8,000-crore contract signed between India and Russia in July 2006.
INS Teg was commissioned on April 27, 2012 and the commissioning of INS Trikand is expected soon.
The weapons suite of INS Tarkash includes surface-to-air and surface-to-surface missile systems, 100 mm medium-range gun, close-in weapon system, torpedo tubes and anti-submarine rockets.
All the three ships will be equipped with 8 vertical- launched BrahMos missile systems as the prime strike weapon.
The new missile frigates are designed to accomplish a wide range of maritime missions, primarily hunting down and destroying large surface ships and submarines.
BrahMos officials said the vertical launch configuration of the supersonic missile enhances the stealth capabilities of the ship as the missiles are under the deck and not exposed.
Jointly developed by India and Russia, the BrahMos is capable of carrying a conventional warhead of 300 kg. The missile can cruise at a maximum speed of 2.8 Mach (or 2.8 times the speed of sound).
India is readying several different versions of the missile which includes land attack, anti-ship and submarine-launched versions.