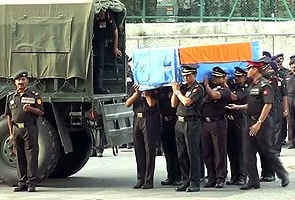 New Delhi:
The bodies of the five Indian soldiers, who were killed in a UN peacekeeping mission in Sudan, arrived in India today morning.
The Indian Army personnel, including a Lieutenant Colonel, were killed on Tuesday and four others were injured when their 32-member convoy was ambushed by armed men in Gurmuck in the volatile state of Jonglei in South Sudan.
Prime Minister Manmohan Singh expressed anguish over the killing of the five peacekeepers. "I pay tributes to our brave soldiers," Dr Singh said in his condolence message to the bereaved families.
France and the United States too condemned the attack. Both the countries applauded India as a leading supporter of UN peacekeeping operations in the conflict prone zones and asked the government of South Sudan to conduct an investigation and ensure that the perpetrators of the act are brought swiftly to justice.
There are around 2,200 Indian Army personnel comprising two battalions, one based in Jonglei and the other in Malakkal, Upper Nile, on the border with Sudan.
Since South Sudan got independence in July 2011, it has witnessed ethnic strife, with Pibor county, the main base of UN peacekeeping force, being the centre of much of the violence. The South Sudan government has blamed followers of rebel leader David Yau Yau for the ambush. Government forces have been battling the rebels in Jonglei while UN peacekeepers have been patrolling between the two sides.
Last month, an Indian soldier was shot there amid fears of a government crackdown.