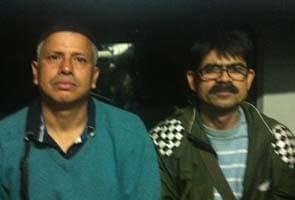 The silence in the Guwahati-bound Rajdhani Express was broken as the train pulled into the Allahabad railway station. At 11pm, most of the passengers were fast asleep and perhaps didn't take note of the two people who were trying to locate their seats after boarding the train at Allahabad.
The only reason I woke up was because their seats were next to mine. But I have to give it to them, that my fellow travelers took care not to disturb others as much as possible. Next morning when I woke up, I realized that the two men who boarded were quite well known personalities in Assam. Raju Barua, the former deputy commander of the militant outfit United Liberation Front of Asom (ULFA) and Shashadhar Choudhury, the person who was in-charge of foreign affairs for the militant outfit.
Sipping my morning cup of Rajdhani tea and reading the Patna edition of The Telegraph, I tried my best to pretend that I was self-absorbed. Even if I wasn't interested, I could hear every bit of their discussion. From spiritualism to Hindu caste hierarchy, from Hamid Karzai to the tourism potential of Assam, the range was wide and with little or nothing in common.
"Hi, I am Sandeep Phukan, a journalist with NDTV," I said trying to start a conversation. "Oh hello! I catch NDTV on my phone. So,where are you based?"said Shashadhar Choudhury with a warm smile. "New Delhi," I said. I was on a personal trip to Guwahati and would have very little time for any professional work like taking an interview of these former guerrillas who were dreaded names at one stage!
"So, what took you to Allahabad?" I asked.
"We are coming back from the Kumbh mela. It was an unbelievable experience, "said Choudhury.
"We have often swung between belief and non-belief. Being a conformist and a non-conformist. This time we went to meet a spiritual guru," added Barua.
These answers were unbelievable. Even to me. Guns, gurus and a holy dip in the Ganges?
In the late 1980s and early 1990s, ULFA was a household name in Assam. Feared in some quarters and supported in some. They symbolised the bloody clash between aspirations of some Assamese youth and the priorities of the state. The ULFA grew out of Assam's agitation movement but took a secessionist path.
Abduction of tea planters and government officials, extortion from the business community, ambushing security forces, blowing up oil pipelines and occasionally carrying out deadly bomb blasts in strategic locations became synonymous with the ULFA.
For over two and half decades, the ULFA kept waging a war against the Indian state even as they kept losing their armed cadres as well as popular support. But now, a group of former militants, led by their ideologue Arabinda Rajkhowa, have come forward for peace talks. Choudhury and Barua are part of this group that is giving peace a chance.
"Do you ever regret mindlessly killing innocent people?" I asked. "If you analyze war principle, there is always collateral damage. We took up arms in a particular situation. We don't regret our decision but we do admit mistakes, "said Barua.
The "mistake" Barua was referring to, was perhaps the bloodiest, the most brutal chapter in ULFA's history: the Dhemaji bomb blast. On August 15, 2004, a bomb ripped apart an old government school building when students were celebrating Independence Day killing 18 people, mostly young children between 12 and 14 years, and injuring scores of others. "You have asked this question and I am glad you did. But do you ask these questions to the Army or the government? Do you ask them about state-sponsored secret killing of family members of the ULFA members? What did the family members do?" countered Choudhury.
"So, when will this bloody cycle of violence end?" I asked, less a journalist, more as an Assamese who grew up through turbulent years. "We have given our 12 point agenda to the Assam Government. And we believe until you change the political system - from panchayat to assembly - and make it more representatives, there is little meaning of democracy," said Choudhury.
So, is politics the next step? I asked.
"How can we tell you without asking the people? We have given up arms respecting the wishes of the people and until they say we should participate in politics, we can't give you an answer, "said Barua.
Twenty six years ago, they took a path that made them take up guns. Today, as the Rajdhani Express slowed down to pass over the iconic Saraighat Bridge over Bramhaputra River, Barua and Choudhury once again shared their "spiritual" experience and "inner peace" with me. I can only wish that this time their journey takes them to their destination sans the bloodshed we have witnessed for almost three decades now.