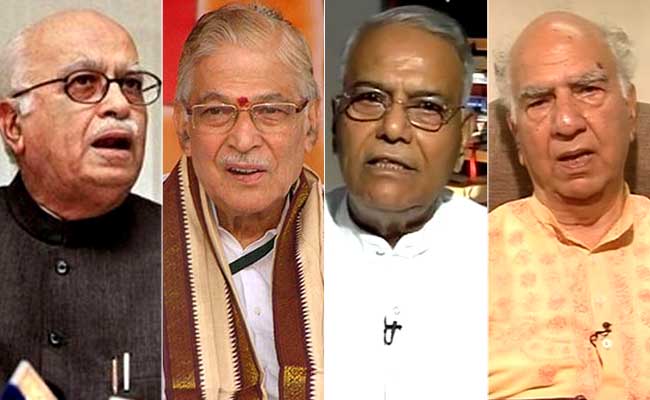 New Delhi:
The BJP veterans who had staged a revolt yesterday against Prime Minister Narendra Modi and Party chief Amit Shah, are not satisfied with the party's counter statement and expect a dialogue, sources have told NDTV. In its absence, they will decide on further action, the sources added.
But former party president
Nitin Gadkari however demanded stringent action against those making "irresponsible" statements
. "I have told party chief Shah to initiate stringent action against those making irresponsible statements and causing damage to the party's image," Mr Gadkari said.
Last evening, following the charge of four veterans, that the party had lost the Bihar elections as it had been "emasculated" and its current stand of collective responsibility was a means of shirking responsibility, the party had issued a counter-statement.
The statement
- signed by senior leaders and Union ministers Rajnath Singh, Venkaiah Naidu and Mr Gadkari - had reminded the rebels that one of them, LK Advani, and former Prime Minister Atal Bihari Vajpayee, had set a precedent of the party "collectively taking up responsibility for victories and defeats".
The statement, however, had added that the party welcomed their guidance and will attempt to overcome shortcomings though a dialogue with them.
"The veterans have taken note of the statement issued by BJP and their past presidents," a source told NDTV today. "They are not satisfied with mere statements, they expect a dialogue."
"If there is no dialogue, the veterans will decide the future course of action if there is no dialogue in couple of days," the source added.
Without naming PM Modi or party chief Amit Shah,
the statement signed by Mr Advani, Shanta Kumar, Yashwant Sinha and Murli Manohar Joshi
had delivered a stinging indictment of their leadership. Coming on the heels of rumbling within the party following its massive defeat in Bihar, it was seen to have supported the complaints of the "high-handed" style of functioning by PM Modi and Mr Shah.
"A thorough review must be done of the reasons for the defeat as well as the way the party is being forced to kowtow to a handful and how its consensual character has been destroyed," the statement had said.
"To say everyone is responsible for defeat in Bihar is to ensure everyone is held responsible. It shows those who would have appropriated credit if the party had won are bent on shrugging off responsibility for the disastrous showing in Bihar," it had added.