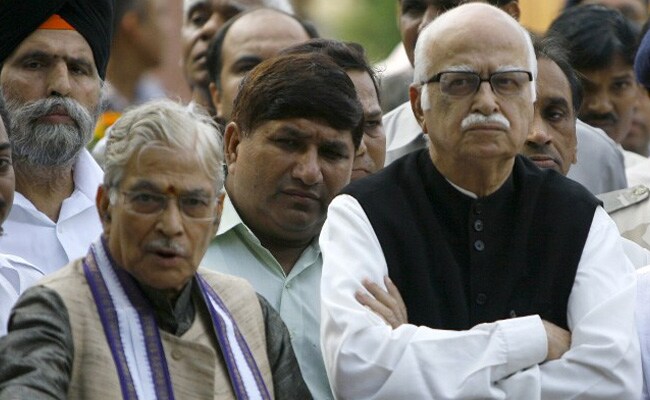 New Delhi:
BJP veterans LK Advani and Murli Manohar Joshi and former Prime Minister Atal Bihari Vajpayee have been dropped from the new-look Parliamentary board that party chief Amit Shah has constituted, in what signals the end of an era in the BJP. (
BJP Rejigs Two Top Teams, Creates A Third
)
They will now be called
marg-darshak
or mentors.
Mr Vajpayee, unwell for many years, has not played an active role in party affairs. But for Mr Advani and Mr Joshi, it is the pink slip after serving since 1980 on the parliamentary board, the BJP's highest-decision making body made up of 12 top leaders, now headed by Amit Shah.
Among the new members is Madhya Pradesh chief minister Shivraj Singh Chauhan. Ironically, when Mr Modi was first inducted into the board early last year, Mr Advani had attempted to push for Mr Chauhan's inclusion too.
All through last year the veteran leader attempted to stall the meteoric rise in the party of Narendra Modi, but failed at every step.
By the time Mr Modi was named the presumptive Prime Minister, it was clear that Mr Advani's stock in the BJP had fallen in direct proportion to the rise of Mr Modi's.
But it is after the national elections in May, in which Mr Modi scripted for the BJP its finest hour, that Mr Advani has been truly diminished. He was denied the post he wanted - that of Speaker - and even went through the ignominy of having his nameplate removed from outside his room in Parliament, though it was later restored.
In his new role, he is unlikely to have decision-making powers; it is a title that the BJP's ideological mentor, the RSS, has tried to press upon him for years and Mr Advani has resisted.
Asked what the new group of mentors would do, party spokesperson Shahnawaz Hussain said, "They will show the way."
He stressed its relevance by pointing out that Prime Minister Modi and home minister Rajnath Singh too are part of the mentor group.