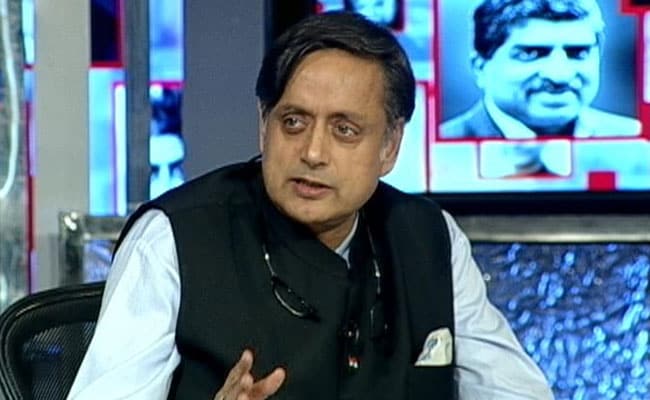 New Delhi:
The BJP government is looking to make a "major assault" on the constitution if the ruling party gets a majority in both the houses of parliament, says Congress lawmaker Shashi Tharoor, who feels the attack on various constitutional provisions, like Article 370 on Kashmir and secularism, will be part of attempts to create a "Hindu rashtra" (nation).
Mr Tharoor, a second-time Lok Sabha member from Thiruvananthapuram in Kerala, also feels that the Congress and like-minded secular parties should come together on a common platform to resist the Hindutva onslaught in the next Lok Sabha elections. Even the Left parties could come on that platform post elections if necessary, according to him.
"I think a lot of their real agenda is waiting for the time when they have both Houses under their control. And once they do, I think you can certainly look to a major assault on the Constitution. Then the question is, will the Supreme Court stand by the basic structure doctrine and interpret it to include these principles of equality, freedom of religion, freedom of worship, non-discrimination, etc., which would make it impossible to reduce the Constitution to the document of a religiously-derived majoritarianism," Mr Tharoor told IANS in an interview.
He recalled that during the National Democratic Alliance (NDA) government under Atal Bihari Vajpayee a constitution review committee was formed under former Supreme Court judge M N Venkatachaliah, but it didn't work on the idea of a Hindu rashtra.
But, Mr Tharoor said, it seems a committee under K N Govindacharya, an ideologue of the Rashtriya Swayamseval Sangh (RSS), is working for the present dispensation, according to media reports and interviews, which have never been challenged. Mr Govindacharya has already talked with some candour to journalists about what he is trying to do.
"He says socialism, secularism, all that will have to go. If they are embarking on such a project, I think they are quite serious about it. The only thing is that they probably felt this would be too much of a risk to be taken on in the first term, unless they also have a majority in the Rajya Sabha."
Mr Tharoor said the BJP doesn't have a two-thirds majority now because almost no other party is going to go along with its approach.
"So, I think they were really hoping, and perhaps unrealistically hoping, to consolidate two-thirds majority in both Houses and then go for the kill. Rather than fighting the battle prematurely, when they could lose."
Meanwhile, he said, the BJP did some "test-drives" like the triple talaq bill as one way of trying to get an issue that they believe will both be dog-whistle at their hardcore base and at the same time test their strength on an issue of religious significance.
"But once they get two-thirds in both Houses, I do believe the Constitution, including Article 370 on Kashmir... on the Hindu rashtra concept, on use of words socialism, secularism, all of these would be up for grabs. There is little doubt about it."
He said he was surprised by Prime Minister Narendra Modi prescribing that Jana Sangh leader Deen Dayal Upadhyaya's ideology is the one those in the ruling party should follow, as it was the same Upadhyaya who said the constitution should be torn up because it is full of imported ideas.
At the same time, the Prime Minister said the constitution is the holy book for him, Mr Tharoor said.
Asked if PM Modi should not be holding this view because he is occupying high office, the Congress leader said: "That will be terrific, I think, if the Prime Minister were to say 'I admire many things about Upadhyaya, but I don't agree with him on the constitution'."
In the context of his latest book "Why I am a Hindu" (Aleph), Mr Tharoor was asked whether he would like his party to counter the BJP on the lines of what he had written about Hinduism and Hindutva. He replied he would not like to over-emphasize on this issue because of the inherent strength of Hinduism.
"In other words, while we were behaving like we were good people who worshipped in private but thought it unseemly to demonstrate our faith in public, they (the BJP) were the ones ostentatiously being religious and saying to their voters 'see, we are Hindus like you and you should vote for us and those are godless secularists'.
"So, by Rahul Gandhi going to temples in Gujarat and so on, what is he saying: He is saying they go to temples, we also go to temples. So, let's neutralise our issues. Now let's talk about vikaas, talk about development, lets talk about whether your life has become better in five years of the BJP ruling you."
Mr Tharoor said ultimately the key political arguments ought to be that these people made all sorts of promises five years ago that they have not fulfilled.
Asked if the Congress would ally with the Left post-elections, he said: "They will, certainly. As far as the CPI-M is concerned, they have already announced they will not ally with the Congress and now we have the final decision to be made by their Congress. If that is confirmed by the party congress, then we will only see post-election (alliance)."
Asked what prompted him to write his latest book, Mr Tharoor said he had been playing around with the idea 20 years ago "in the context of the Babri Masjid demolition".
"The idea to do a full book on the subject became more urgent and compelling because of the extent to which Hindutva has tried to make the issue of the Hindu face front and centre in our public discourse," he said.