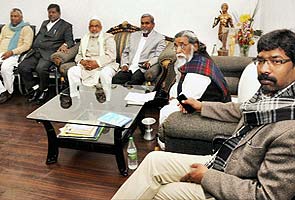 Ranchi:
The government in Jharkhand, led by the BJP, is vertiginously poised with Shibu Soren's Jharkhand Mukti Morcha or the JMM, withdrawing its support.
The BJP and Mr Soren's JMM have 18 members each in the 81-member state assembly. Without the support of the JMM, the government, led by the BJP's Arjun Munda, is in a minority.
The JMM has five ministers in the cabinet. Mr Soren said he will meet the governor of the state tomorrow to formally withdraw support.
The main point of dispute is over who should be chief minister. The JMM alleges that a pact entitles it to the post this week, half-way through the government's term. But Mr Munda has reportedly denied that this agreement exists.
Mr Soren's party is also reportedly upset with senior BJP leader and Member of Parliament from the state Nishikant Dubey for speaking out against JMM leaders repeatedly.
The Congress has 13 state legislators, but the party has said that till Mr Soren formally exits the government, it will not consider the option of trying to gather the numbers to stake claim.

(with IANS inputs)