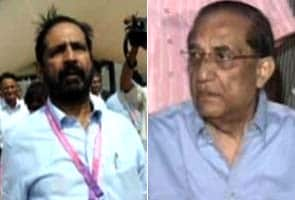 New Delhi:
As the NDA slammed the government for the appointment of Suresh Kalmadi as the head of the Commonwealth Games Organising Committee, we revisited an RTI application which revealed how in a 2008 meeting, BJP leader VK Malhotra "applauded" Mr Kalmadi for the "excellent services rendered by him." Mr Malhotra also proposed Mr Kalmadi's re-election as Indian Olympic Association (IOA) President.
As the Chairman of the Organising Committee, Mr Kalmadi led a team of men whose biggest trademark became bare-faced corruption. He was arrested in April. So whoever picked him chose unwisely.
(Read: Who made Kalmadi chairman? Many denials, mystery deepens)
A report by the government's auditor blames the Prime Minister's Office for Mr Kalmadi's elevation to head of the committee that stole crores from the country.
"In our opinion, the decision of the PMO for appointing Suresh Kalmadi as Chairman of the OC facilitated the conversion of the originally envisaged government-owned OC into a body effectively outside the government control," writes the Comptroller and Auditor General. The report will be presented soon in Parliament.
But the Prime Minister's Office blames Atal Behari Vajpayee's government which was in power when India bid for the Games in 2003 - a claim repeated in the Lok Sabha on Tuesday by Sports Minister Ajay Maken. The BJP has, however, denied this.
But documents obtained through Right To Information (RTI) by activist Subhash Agarwal show that ironically, it was senior BJP leader VK Malhotra who had proposed the re-election of Suresh Kalmadi as the president of Indian Olympic Association (IOA) in 2008.
According to the minutes of that 2008 meeting to elect the IOA chief, "While applauding the excellent services rendered by Mr Suresh Kalmadi as the President of the IOA and Chairman, Organising Committee Commonwealth Games Delhi 2010, Mr Malhotra proposed the re-election of Suresh Kalmadi as President of Indian Olympic Association."
Mr Kalmadi was elected unanimously. In return, he proposed the name of VK Malhotra for the post of senior Vice-President.
After the CBI arrested Kalmadi on charges of corruption in April this year, Mr Malhotra was appointed as the acting President of the IOA.