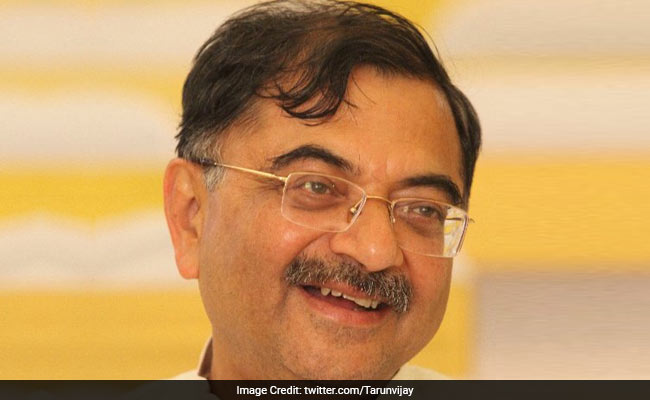 Highlights
A tweet critical of PM Modi appeared on BJP's Tarun Vijay's timeline
The tweet was removed, the BJP leader said
He said the person handling his account has been sacked
New Delhi:
Senior BJP leader Tarun Vijay says he has deactivated his Twitter account, "sacked the person handling his tweets" and filed a complaint with the police after a bizarre set of posts had him supporting Congress president Rahul Gandhi and appearing to criticise Prime Minister Narendra Modi.
"I have deactivated it (Twitter account). This can be a plot. I will live and die for (Narendra) Modi and Amit Shah. They are Pandit Deendayal Upadhyay and Dr Syama Prasad Mukherjee for us small workers. My family and I work day and night for him. My family will die for BJP. No one demanded anything. It is a pre-2019 conspiracy. Please help me from anti-BJP elements," Tarun Vijay told news agency ANI today.
It all started a little after 10 pm last night, when a tweet on Tarun Vijay's timeline said no one has the right to comment on a person's motive for going to a pilgrimage. The tweet apparently referred to his party BJP's criticism of the Congress chief's trip to Kailash-Mansarovar.
More tweets followed in a similar vein, and one said: "Those commenting, mocking at, Making cheap comments on Rahul's Kailas Yatra are wrong. Not what a Hindu should do. it is is all between him and Shiva. None can be bigger than Shiva."
Then came a tweet that has now been deleted. It was directed at a person accused by Mr Vijay of "arrogance" because PM Modi was behind them. It tagged an incorrect handle.
The activities on Mr Vijay's timeline got curiouser when he posted, around 12:11 am, that he was on a morning walk and that he had sacked the person handling his Twitter account.
I am on morning walk and I am Ok. Sacked person who was handling my tweets.

- Tarun Vijay (@Tarunvijay) September 4, 2018
In another tweet soon after, the senior BJP leader blamed the posts on the misuse of his password "when we were shifting home".
Thank you friends for showing faith in us and not believing the wrong tweets. It happened when we were shifting home. Password misused and I am filing a police complaint. Changed password. Thanks to the huge number of friends who stood by me Thank you

- Tarun Vijay (@Tarunvijay) September 5, 2018
The Congress wasn't letting this one go without a few digs. The party's Manish Tewari jibed: "Accounts do get hacked if you support Rahul Gandhi."
Accounts do get hacked if you support @RahulGandhi. We do understand. The Conscience has a funny way of driving fingertips my friend. Well done .@Tarunvijaypic.twitter.com/n3n1aUqld1

- Manish Tewari (@ManishTewari) September 5, 2018
तरुण विजय जी,

हौसला अपना बुलंद कर लीजिये,
निर्भय होकर सच्चाई के साथ चलीये,

राहुल गाँधी जी की कैलाश यात्रा के लिए आपने जो कुछ लिखा,
अपने हुक्मरानों के डर से उसे मिटाइये नहीं,

सत्यम, शिवम् सुंदरम

सत्य ही शिव है,

महादेव आपको सत्य का रास्ता दिखाते रहेंगे व असत्य का नाश होगा। pic.twitter.com/dE4ae9acqY

- Randeep Singh Surjewala (@rssurjewala) September 5, 2018
This morning, the BJP leader was back to retweeting PM Modi's posts and posting stories favourable to the party.
The 57-year-old former BJP parliamentarian from Uttarakhand was once the editor of a Rashtriya Swayamsevak Sangh (RSS) publication, Panchajanya. He has been at the forefront of the campaign for a Ram temple at the site of a razed mosque in Ayodhya.