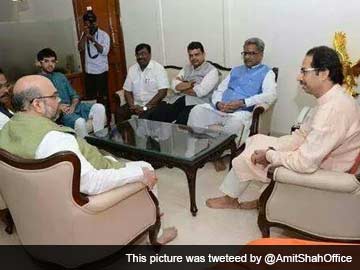 Mumbai:
"The alliance with the Shiv Sena is over", the BJP said in Mumbai this evening, ending a 25-year-old partnership.
The end was announced briskly after yet another day of many meetings. "We asked them to be flexible, but the Shiv Sena stuck to 151 seats. There is very little time to fill nominations. We couldn't come up with a solution," said the BJP's Eknath Khadse after a meeting of top state leaders.
The BJP said it took the decision with a "heavy heart".
The two parties bickered for days over allocation of seats for the Maharashtra elections now less than three weeks away. Tough negotiations came to a stalemate when the BJP refused to accept less than 130 of Maharashtra's 288 seats, and the Shiv Sena was adamant on contesting at least 151. That left only seven seats for smaller allies, who protested.
The BJP today said it had cast its lot with those smaller allies and would carry them with it in the elections to be held on October 15. Nominations have to be filed by Saturday.
Barely an hour after BJP announced its decision, the Nationalist Congress Party or NCP too ended its 15-year-old alliance with the Congress and declared it would "go it alone" in the Maharashtra elections against "communal forces".
The BJP's central leaders had indicated since Thursday morning that there was not much to salvage in the relationship with the Sena. On cue, BJP president Amit Shah cancelled his trip to Mumbai today for the second straight day.
Then, the BJP rejected what the Shiv Sena called its "one final offer" on seat sharing and sought a fresh proposal. Any fresh proposal would have need a significant climbdown from the Sena on number of seats, an acknowledgment that its status as the senior partner in Maharashtra had eroded.
Sena chief Udhav Thackeray's son Aditya's tweets indicated that was not acceptable. "We have vowed to work for a better Maharashtra and to fight and win against all those who destroyed Maharashtra and dashed the hopes of all," he said, and also, "Under the leadership of Uddhav ji, we will build the Maharashtra of Balasaheb's dreams- progressive, safe, prosperous!".
At stake in the tussle was the chief minister's post which the party with the more seats would get if the alliance was voted to power. The Shiv Sena wants the seat for its chief.