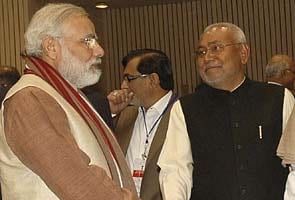 Patna:
Ahead of the national elections, the Congress and the BJP have been expending energy and attention on social media training and brain-storming. But Bihar Chief Minister Nitish Kumar just doesn't see the point.
His government does not have a Facebook page. And Mr Kumar says he has no interest in tweeting. "What is the meaning of Twitter?" he asked reporters this morning in considerably more than 140 characters. "It's chi chi che che... basically, the noise of birds tweeting. Let them do that every morning."
Mr Kumar's disdain for Twitter is in sharp contrast to his political rival, Narendra Modi, widely expected to land the opposition's prime ministerial nomination. Mr Modi tweets often, promoting his government's policies and often attacking the central government or its leaders like Prime Minister Manmohan Singh. He has more than 2 million followers.
In a barely-concealed swipe at him, Mr Kumar said, "Some leaders through excessive tweeting have turned it into a jarring sound. They seem to have no other work in a day than to make political statements for the media. Twitter serves actors who can't access their fans. Politicians should be able to connect with the people every day."
Mr Kumar ended a 17-year coalition with Mr Modi's party, the BJP, in June this year. For months, as the BJP manoeuvred its way towards promoting Mr Modi to a national leading role, the Bihar Chief Minister warned publicly that he was being forced to reconsider the political partnership.
When he did call off the alliance, he said that his party, the Janata Dal United, could not accept the BJP's decision to place Mr Modi in charge of its national campaign. The next step would be making Mr Modi its presumptive prime minister, he alleged, classifying this as unacceptable.
Like Mr Modi's other detractors, Mr Kumar and his party, the Janata Dal United, accuse the BJP leader of not doing enough to stop hundreds of Muslims from being killed in communal riots in Gujarat in 2002 during his first term as the state's chief minister.
The BJP and Mr Modi have rejected those allegations.