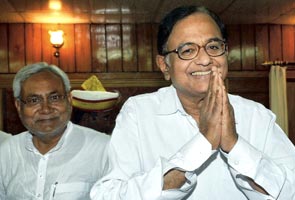 Patna:
In a move that is bound to appease Bihar Chief Minister Nitish Kumar, Finance Minister P Chidambaram today said a high-level sub-committee will soon be constituted to finalise the new criteria for "backwardness." He also added that under the new criteria Bihar would qualify for 'special status' as a backward state.
"The criteria is to determine backwardness. Once we agree on this criteria, once we implement the criteria, states will qualify under that criteria and going by whatever information that I have, Bihar will certainly qualify under the new criteria," Mr Chidambaram said when asked by reporters about his announcement during the Union Budget that criteria for the special status which envisages several tax breaks and incentives to a state will be taken forward.
The sub-committee to be headed by Chief Economic Advisor to Government of India Raghuram Rajan would be told to submit the report in a months' time to decide which state qualifies. The special status will entitle states to loans and assistance from the Centre and tax waivers for industry set up.
The Nitish Kumar government has been demanding special status for Bihar for several years and had even organised a rally in Patna last year and another in Delhi in March this year. "Whoever empathises with and helps backward states will come to power in Delhi" Mr Kumar had said in March, warning that "if special status for Bihar is not granted now, you will have no choice but to implement it after 2014."
The Congress' acknowledgement that it is considering the chief minister's request has been interpreted as a sign of the party's wooing of Mr Kumar away from his alliance with the BJP.