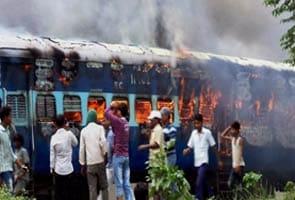 Patna:
Thirty seven people were killed in Bihar on Monday when an express train drove into pilgrims standing on rail tracks at a poorly connected town in the state's Khagaria district, around 160 km from Patna.
The incident triggered near riots as a violent mob assaulted the train driver, set trains on fire and held railway staff hostage for a while, prompting appeals for calm from both Prime Minister Manmohan Singh and state Chief Minister Nitish Kumar.
Those killed were mostly kanwarias or devotees of Lord Shiva, who were crossing the tracks to visit a popular Shiva temple at Katyani Sthan, a religious stopover.
They had exited another train when the Rajyarani Express train from Saharsa, travelling at a speed of 80 km/hour on its way to Patna, crushed them. Reports said the driver tried to brake on spotting people on the tracks, but it was too late.
The Railways confirmed 28 deaths.
Bodies lay on rail tracks for hours as the angry crowds made it difficult for rescue teams to reach the spot, which is inaccessible by road. Rescue workers, district and police officials had to walk over three kilometres, cross a river and walk along train tracks to reach the site at Dhamara Ghat station. There are no hospitals or roads in the area.
"It is the rarest of rare incidents," said the Chief Minister, who ordered post mortems to be conducted on the spot.
A 2012 government report said almost 15,000 people are killed every year crossing rail tracks, due to poor safety standards in remote areas.
Get Breaking news, live coverage, and Latest News from India and around the world on NDTV.com. Catch all the Live TV action on NDTV 24x7 and NDTV India. Like us on Facebook or follow us on Twitter and Instagram for latest news and live news updates.