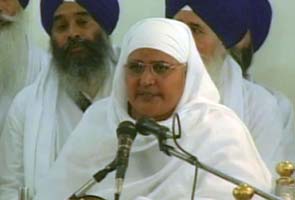 Chandigarh:
A 32-inch LCD TV and a direct-to-home dish antenna were reportedly installed at a ward in the Kapurthala Central Jail on Monday. An air-conditioner is said to be on its way. The prison has been readied for a VIP lodger - former Punjab minister Bibi Jagir Kaur, who has been sentenced to five years in jail.
Video footage showed the Bibi being driven up to the jail in an air-conditioned Innova car. She was a minister till Friday, when a Central Bureau of Investigation (CBI) special court in Patiala sentenced her to five years rigorous imprisonment on counts of forcible abortion, wrongful confinement, abduction and criminal conspiracy. She was, however, absolved of the charges of murdering her daughter, Harpreet Kaur, 19, who died 12 years ago.
After her conviction and arrest, the 57-year-old was forced to resign as Punjab's minister for rural water supply and sanitation and defence services, but it was clear that she still had ample political clout. She was sentenced to be lodged at the Patiala jail, but within hours of her conviction, her request that she be transferred to the Kapurthala jail was accepted. Jagir Kaur, who heads a cash-rich "
dera
" (sect) in Begowal village, belongs to the Kapurthala district.
Jail authorities have ensured that the Bibi's lodgings are at a distance from other inmates in the women's ward.
Harpeet Kaur was found dead on April 20, 2000, when Jagir Kaur was president of the powerful Shiromani Gurudwara Parbandhak Committee (SGPC). She was rushed to hospital from her mother's home by a domestic help and a doctor who later turned approver in the case. Doctors declared her dead on arrival, and no post-mortem was conducted.
On April 27, a man named Kamaljit Singh petitioned the Punjab High Court to commission an inquiry into Harpreet's death. He said Harpreet had married him secretly because her mother was opposed to their relationship. He produced photos and a video of their wedding to support his allegations. He said Harpreet was pregnant with their child and that Jagir Kaur had forced her to have an abortion.
Jagir Kaur was forced to quit her SGPC post. The case was handed over to the Central Bureau of Investigation. But it was a complex one, mainly because the investigation only began a few months after Harpreet's death and since there was no post-mortem conducted. Many witnesses turned hostile since the trial began, including Kamaljit Singh, who later said that the video of the wedding that he had submitted was a ceremony staged on camera to pressure Jagir Kaur; he said he did not actually marry Harpreet.
Jagir Kaur and six other people were tried for Harpreet's murder. Three of the others were convicted in the case, one died during the course of the trial; two others were acquitted on Friday.