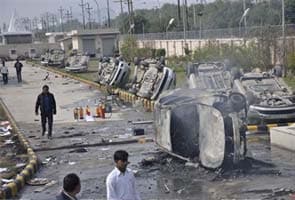 Noida:
At least 131 people have been arrested for looting and damaging around 600 offices yesterday in Noida, just 15 kms from Delhi during a nationwide strike called by major trade unions.
Police has registered 184 cases so far in connection with the violence that took place in Noida's industrial are in phase II. Those arrested include some local trade union leaders. The charges against them include arson and attempt to murder. Some of those arrested we spoke to, claimed they had no union affiliations and were labourers at these units picked up by the police when they were leaving after the first wave of violence started.
150 companies in Noida have filed complaints with the police.
25 cars were set on fire during the rampage.
The two-day strike was called to protest against economic reforms by the government, which trade union leaders describe as anti-poor.
Last year, the Prime Minister cleared the entry of foreign super-chains like Wal-Mart.
Other planned reforms include opening the retail, insurance and aviation sectors wider to foreign investment in a bid to spur a sharply slowing economy.