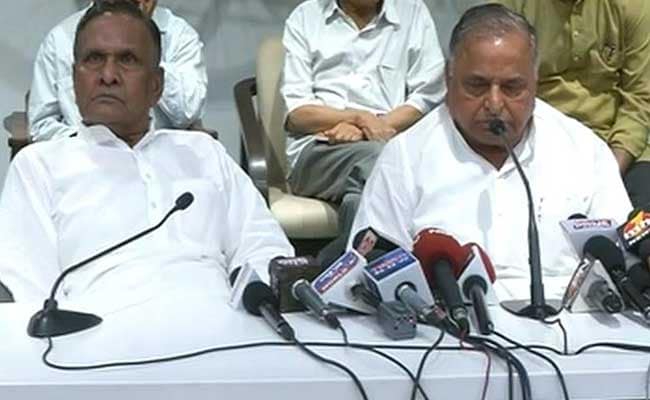 Highlights
Beni Prasad Verma has returned to the Samajwadi Party after nine years
He had joined Congress and regularly attacked Mulayam Singh
Mr Verma is a Kurmi, seen as a powerful votebank in UP
Lucknow:
Beni Prasad Verma is back. The Uttar Pradesh politician arrived at the Samajwadi Party office in Lucknow today along with the party's chief Mulayam Singh Yadav, signaling his return after nine years.
Mr Verma, for years a close aide of Mulayam Singh, had left the Samajwadi Party or SP in 2007. He joined the Congress just before the 2009 national election and was rewarded with the post of union minister in the previous UPA government.
It was not Mr Verma's performance as minister, but his controversial comments, mostly attacking Mulayam Singh, that kept him in the news, forcing the Congress to gag him as its relations with the SP were brought to an edge.
Today, as he returned to the party Mr Verma said, "I had felt very suffocated in the last two years. I thank Soniaji and Rahulji for what they did for me but I could not adjust myself in the party in the present scenario. But now, elections in UP are approaching and I cannot oppose Akhilesh Yadav (Mulayam's son and UP chief minister)."
"I wish to return to the Samajwadi Party, if Mulayam Singh allows me. I am among those who built this party," the 75-year-old politician added.
Accepting Beni back makes political sense for Mulayam Singh Yadav. He is a prominent Kurmi leader and will help the SP counter the efforts of Bihar's Nitish Kumar, who plans his party's Uttar Pradesh foray in next year's assembly election and hopes to make a dent in the Samajwadi Party's Kurmi support base. Nitish Kumar too is a Kurmi, the second most dominant community in UP among the Other Backward Castes and seen as a powerful votebank.
But to embrace Mr Verma, Mulayam Singh will have to forget many slights and public attacks that Mr Verma made when he was away in the Congress, including accusing him of "conniving with the BJP" in the run-up to the demolition of the Babri Masjid and alleging that the SP chief had terror links.
That all is forgiven was made clear by Mulayam Singh when he said today that old friends and old wine are always welcomed.
Beni Prasad said, "The time which has gone never comes back. I am not denying anything. For a new start, old things have to be forgotten. Now my objective is to make Akhilesh Chief Minister again."