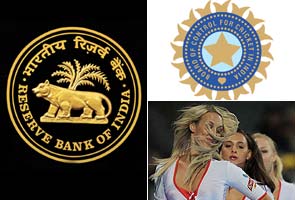 New Delhi:
The Indian Premier League (IPL) in South Africa was littered with violations of foreign exchange laws, according to the Reserve Bank of India (RBI).
In the over three years that it has existed, the IPL's history has been a narrative seeped in scandals, mainly financial.
The Reserve Bank of India or RBI has found serious violations by the IPL's parent body, the Board of Control for Cricket in India (BCCI) in connection with the second edition of the Twenty20 league that was held in South Africa in 2009.
The RBI has submitted a detailed report to the Parliamentary Standing Committee on Finance that's examining alleged financial impropriety in the IPL. The report says that the BCCI did not get the required permission from the RBI to open foreign exchange accounts in South Africa.
The Enforcement Directorate (ED) is also studying the IPL's books, and the RBI wants to wait till that investigation concludes before suggesting a penalty for the BCCI.
Four banks - Axis Bank, HDFC Bank, Yes Bank and State Bank of Travancore - are on the RBI's radar for enabling the BCCI to move money to India from accounts in South Africa. The RBI is expected to send show-cause notices to these banks.
On Wednesday, the heads of the BCCI and the IPL met with the parliamentary committee to take questions of issues like the funding and ownership patterns of Twenty20 teams.