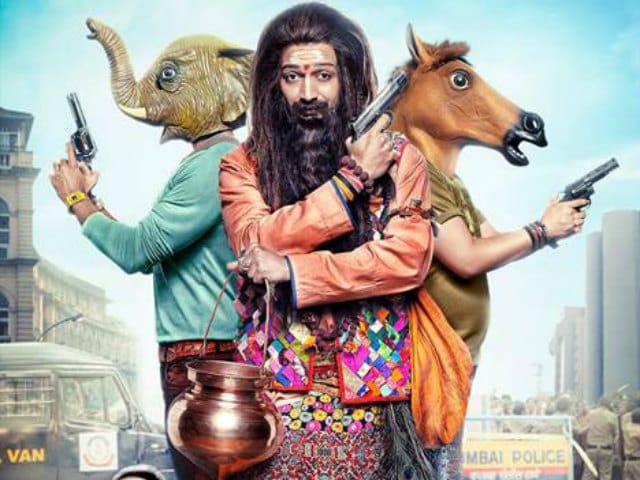 Cast:
Riteish Deshmukh, Vivek Oberoi, Vikram Thapa, Bhuvan Arora, Sahil Vaid, Rhea Chakraborty, Baba Sehgal
Director:
Bumpy
Rating:
1.5 Stars (out of 5)
Three foolhardy dunderheads have a brainwave. They hold up a bank in the heart of Mumbai. As a gaggle of breathless television journos cackle away outside the building, a take-no-prisoners CBI officer arrives on the spot to tackle the situation. Halfway through, a short-fused Urdu-spouting gangster emerges from the crowd in the bank, matters snowball into a full-blown crisis, gunshots are heard, and there is blood on the floor. Amid the worsening commotion, a whole bunch of clueless hostages yo-yo helplessly between despair and dread.
Together, in more competent hands, these oddballs might have yielded a rip-roaring comic thriller with moments of heightened lunacy of the kind that bank-heist-gone-wrong capers traditionally bank upon. All that the ingredients bunged into this concoction yield is an oddly limpid and listless action comedy that sputters to a woolly-headed climax that makes no more sense than the rest of the film.
Bank Chor
isn't likely to steal any hearts.
Bank Chor, the latest from Y-Films, YRF's youth entertainment arm
, falls way, way short of being either riveting or sidesplitting. It is directed by Bumpy (who also helmed Y-Films' first release,
Luv Ka the End
, 2011). The film is a bumpy ride indeed.
Bank Chor
tries overly hard to be funny but it isn't as smart as the makers think it is. Yes, there is a twist in the tale but by the time it is sprung upon the audience, it is far too whimsical to be effective.
The laboured screenplay (credited to Baljeet Singh Marwah, Bumpy and two other writers) attempts to squeeze stale humour out the Delhi-versus-Mumbai banter that rages between Champak Chandrakant Chiplunkar of Chinchpokli (Riteish Deshmukh) and his two partners in crime, Faridabad's Genda (debutant Vikram Thapa) and Ghaziabad's Gulab (Bhuvan Arora).
Their pointless chitchat quickly turns terribly tiresome, as does the male lead's constant harping on the need to stick to the principles of
vaastu
as his bank heist teeters on the edge of disaster. The film, on its part, adheres to no particular generic rules, flitting back and forth between flippant and intense in the hope of hitting its straps. It never does.
The one who takes the cake - and the bakery - on the fatigue-meter is
Vivek Oberoi
is the guise of CBI special agent Amjad Khan. His cool, ruthless enforcer act is sought to be augmented with cliched props like a handlebar moustache (which he twirls every now and then), a pair of shades and a hip flask from which he has a swig when he means business. This man is supposed to put the fear of god in the hearts of criminals. I want my cases closed and criminals dead, he thunders. Snigger, snigger!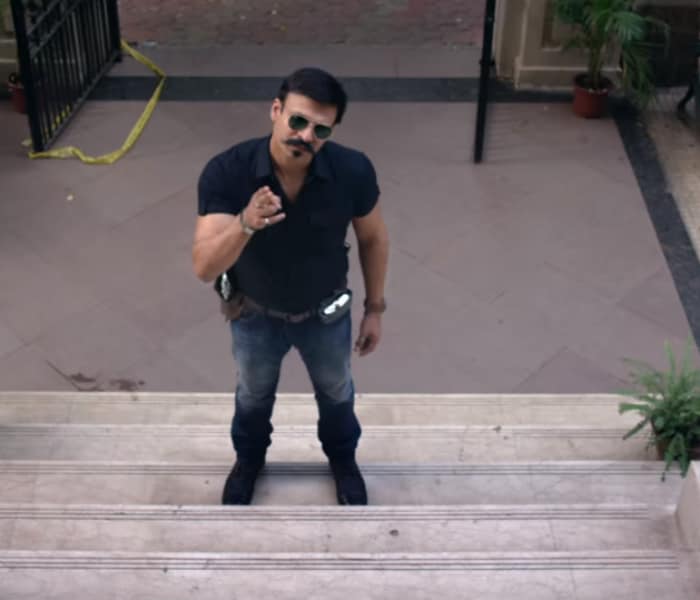 Credulity is stretched further by an over-enthusiastic television reporter Gayatri Ganguly (Rhea Chakraborty). She is eager to make the most of the hostage drama and gets a part to play in the imbroglio as a not-too-keen negotiator. Officer Khan sends her into the bank with a camera to figure out exactly what the bank robbers are up to and what they have in store. She doesn't make much headway. Nor does the audience.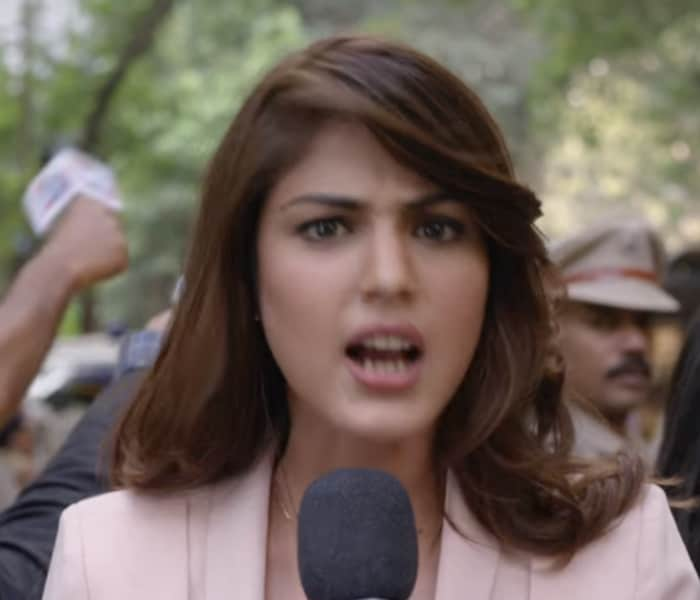 The film opens with the bumbling trio storming into a bank, one in the guise of a godman, the other two hiding behind the heads of an elephant and a horse. As they monkey around on the bank premises, the leader of the pack repeatedly describes himself as a
majboor aam aadmi
but trots out contradictory reasons for his decision to rob a bank. The two Delhi boys are small-time crooks who have never gone beyond picking pockets. Their adventure, predictably, runs into rough weather as a seasoned hitman (Sahil Vaid) surfaces and reveals a sinister conspiracy that is beyond the comprehension of Champak, Gulab and Genda.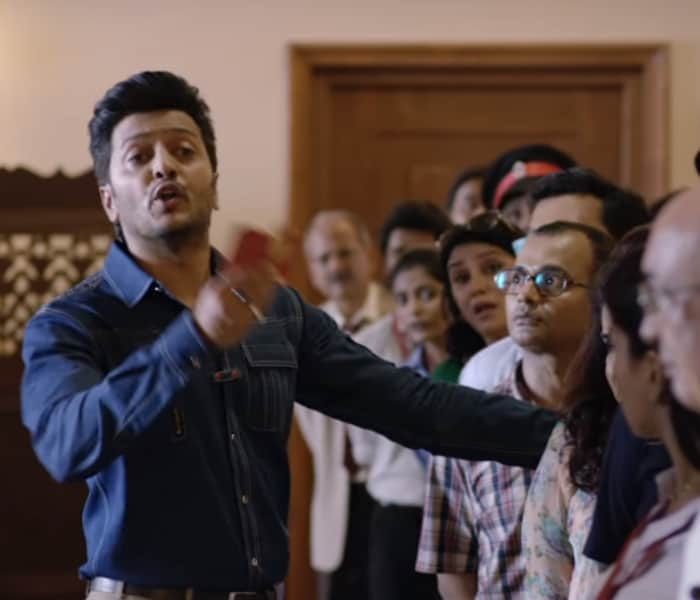 The maximum footage is understandably devoted to Riteish Deshmukh and Vivek Oberoi (credited here as Vivek Anand Oberoi). The former lurches from one mishap to another, the latter projects an I-know-best air. Neither is convincing enough to hold the rickety action comedy in place. Entertainment journalist-turned-actor Vikram Thapa and Bhuvan Arora seem to be having more of a blast that than the two principal members of the cast. Rhea Chakraborty, who pops up once in a while without too much to do, is used primarily for decorative purposes.
The cast of
Bank Chor
also has Upendra Limaye in a cameo as a corrupt home minister who has a huge personal stake in how the bank robbery pans out, Vikram Gokhale in a single scene as a veteran scribe who knows too much and rapper Baba Saigal playing himself. They provide no relief from the dreary monotony of
Bank Chor
.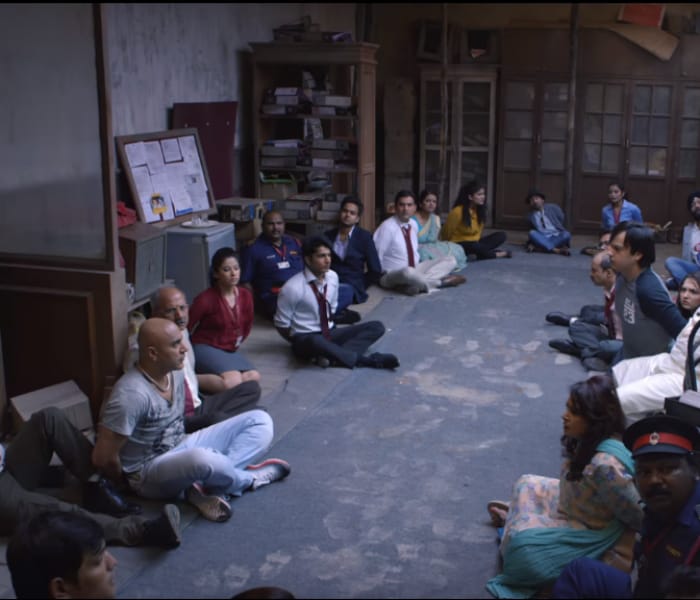 Bank Chor
is a wasted opportunity. It doesn't raise as much as a mild chortle, let alone a hearty chuckle. Not thrilling either despite strenuous efforts, it is a massive chore to watch.