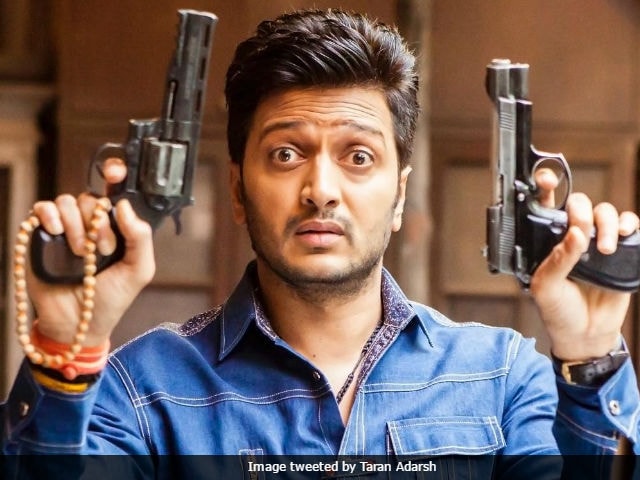 Highlights
Bank Chor is reportedly made in a budget of Rs 15 crore
The film received lukewarm reviews when it opened on Friday
Bank Chor also stars Rhea Chakraborty and Baba Sehgal
New Delhi:
Riteish Deshmukh's
Bank Chor
released on Friday to lukewarm reviews, which was reflected in the film's poor box office collection on the first day. Trade analyst Taran Adarsh reported that the film collected merely Rs 1.40 crore in India. The Y-Films financed project, made on a reported budget of Rs 15 crore, needs more than this to survive the weekend. The biggest hurdle that
Bank Chor
faces is Sunday's ICC Champion's Trophy finale, in which India will play against Pakistan.
Bank Chor
also stars Vivek Oberoi, Vikram Thapa, Bhuvan Arora, Sahil Vaid, Rhea Chakraborty, Baba Sehgal. The film is helmed by Bumpy, who co-directed
Luv Ka The End
with Punit Malhotra.
In his review for NDTV,
film critic Raja Sen said
: "Even a substandard or cliched basic plotline could have been sidestepped were only the gags smart enough, or, at least, that there were enough of them. This one spends too much time not going for the laughs. It starts off being about blank chors, and ends up a bank bore." He gave the film 2 stars out of 5.
Watch the trailer of
Bank Chor
:
Bank Chor
follows the event of an unfateful day when three amateur bank robbers - played by Riteish, Vikram Thapa and Bhuvan Arora - decide to stage a heist and Inspector Amjad Khan (Vivek Oberoi) is assigned to catch the thieves. The robbers apparently may have an ulterior motive to rob the bank but all things go haywire on the day of their plan's execution.