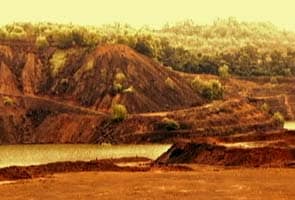 New Delhi:
The Supreme Court today ruled that the ban on mining activities will continue and it also banned the transportation of iron and manganese ore mined illegally in the state.
The petition, filed by NGO Goa Foundation in the court in the wake of the Justice (Retd) MB Shah Commission's report, was tabled in Parliament on September 7 this year, alleging that "iron ore worth Rupees 35,000 crores was plundered by the mining companies, committing theft of Government property."
In its Public Interest Litigation (PIL) filed through advocate Prashant Bhushan, the NGO has cited the report and has stated that "illegal activities in mining were underway since the year 2000."
Advocate Prashant Bhushan told the court that Goa government wants to resume mining activities after Diwali and wanted the court to stop mining completely. Directorate of Mines and Geology had imposed the ban on mining activities till October.
The PIL added all the 90 mines in the state were functioning without the mandatory permission from the National Board of Wild Life (NBWL) and 33 of these mines were within 1.5 kms of the wildlife sanctuaries, well within the eco-sensitive zone notified by the NBWL.
It has said the Directorate of Mines and Geology on September 10 this year had temporarily suspended all mining operations till October 2012, but the suspension did not affect the trade and transportation of ore already mined and existing in the lease hold area, in transit or stores or stocked on the jetties.