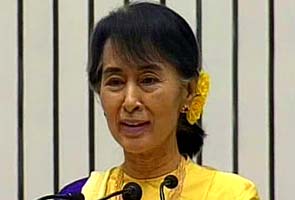 New Delhi:
Myanmar's pro-democracy leader Aung San Suu Kyi spoke on the 123rd birth anniversary of Jawaharal Nehru today. Here are the highlights of her speech at New Delhi's Vigyan Bhawan:
These past few months have given me many opportunities to thank people, governments for democracy in Burma
I was saddened that India had moved away from us

Today I wish to thank you for the Jawaharlal Nehru memorial prize that was given to me in 1998
The thoughts and actions of leaders of Indian independence movement inspire us in Burma - our movement is firmly based in non-violence
My mother spoke of Pt Jawaharlal Nehru with reverence - to my infant mind he was an old man who had provided my father with two sets of uniform - the smartest he ever possessed
Narrates an anecdotal incident about how her father was outfitted by Jawaharlal Nehru enroute to London in 1948

After my father's death, Nehru continued to keep an avuncular eye on my mother
I may have met him when I was young, but I remember seeing him for the 1st time in Delhi Railway station when I was about 16
The year of Nehru's birth centenary, I was placed under house arrest for the first time

Each day was more than eventful. Touring the country to give the message of my party to the country
I pointed out that there was no law for transition of power
The chairman of the restoration (army personnel) arrived with a warrant

My sons had come for the summer holidays
My son asked him which class of prisoner I would be? But I was placed on house arrest
Nehru's book 'Discovery of India' helped me get through my years in house arrest
Quotes Yates from the book - and how she was unable to look up what she thought was wrong for many years she spent in house arrest
Nehru exposes dilemma, writing about his wife Kamla
After my release from house arrest, I spoke about sacrifices made by Kamla Nehru
Politics is about people
Two leaders I feel closest to are Gandhi and Nehru because their challenges were similar to ours
Our fight for democracy in Burma is non-violent. It is influenced by Mahatma Gandhi
One day when I was under house arrest, I heard on the radio that the party has expelled me as I was under detention
Inspite of their differences, Nehru and Gandhi worked together

I learnt that I will have to work with my party workers inspite of our differences
Gandhi once said once said Motilal's most striking quality was his love for his son. 'Motilal's love for India stems for his love from Jawaharlal..."
I wondered if my love for Burma came from love for my father who I hardly remembered
Get Breaking news, live coverage, and Latest News from India and around the world on NDTV.com. Catch all the Live TV action on NDTV 24x7 and NDTV India. Like us on Facebook or follow us on Twitter and Instagram for latest news and live news updates.