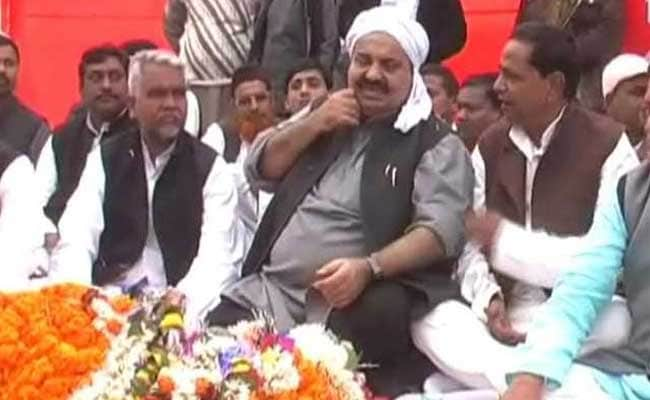 Ballia, Uttar Pradesh:
Former BJP MP Harinarayan Rajbhar on Thursday said gangster-turned-politician Atiq Ahmed should be brought out of jail and killed in an encounter, adding that the gates of heaven will open for the policeman who does so.
The provocative remark comes days after Ahmed's two alleged aides, accused in the Umesh Pal murder, were killed in separate encounters with UP Police. Police say they fired in retaliation, but the opposition Samajwadi Party and the Bahujan Samaj Party have expressed disquiet.
The police encounters followed the gunning down of Umesh Pal, a key witness in the murder of BSP MLA Raju Pal in 2005, and two police personnel in Prayagraj last month.
Police said Ahmed, already lodged in a Gujarat jail in connection with another case, was involved in planning the attack.
"Atiq Ahmed conspired the murder while in jail. Atiq Ahmed has killed hundreds of people and forcibly occupied the land of the poor," said the former MP, who was elected to Parliament in 2014 from Ghosi in Mau district, told reporters.
"Atiq Ahmed fears being killed in an encounter. There should be an encounter of all the shooters involved in the Umesh Pal murder case. An encounter of Atiq Ahmed should be carried out after bringing him out of jail. The doors of heaven will open in the future for the officer who carries out Atiq's encounter," he said.
Ahmed recently moved the Supreme Court, saying he feared for his life.
In the petition, he expressed the apprehension that the Uttar Pradesh Police will seek his remand in connection with the Umesh Pal murder and then stage a fake encounter while bringing him from Ahmedabad prison to Prayagraj.
Along with Ahmed, police have named his family members in the Umesh Pal case.
Rajbhar was also asked about SP general secretary Ram Gopal Yadav's remark that Ahmed's son will be killed in a fake encounter in the coming days.
"Ram Gopal Yadav has given birth to these criminals while in government, taught them crime. He is still speaking in support of these criminals," the BJP leader charged.
He said the Mulayam Singh Yadav family "promotes such elements" and accused SP leaders of being "merchants of death".
Targeting Suheldev Bhartiya Samaj Party (SBSP) leader Om Prakash Rajbhar, the BJP leader called him an "accomplice of criminals" and said he should be in jail.
He alleged that the SBSP chief and his sons are extorting money from businessmen and doctors.
"They are committing these crimes under police protection. If the government does not pay attention now, there is a possibility that more Prayagraj-like incidents will take place in the near future," he said.
The SBSP has quit its alliance with the SP and appears to be inching towards the ruling BJP.
(Except for the headline, this story has not been edited by NDTV staff and is published from a syndicated feed.)